Where Can I Get a Travel Agency Booking Website?
There are several ways to negotiate a booking site depending on your circumstances. Generally they are available with your private branding, yet the provider takes care of maintaining keeping the content current and up-to-date. 
Remember to make sure that having a booking website is consistent with your overall value proposition. If you are an expert on a particular niche of travel, it is quite likely that you do not want to relegate a client to a generic booking engine, but would rather that they reach out to you personally so that you can share your expertise and turn the contact into a sale. That said, here is how to find the perfect travel agency booking website for your business.
Host Agencies
While just one of the benefits realized by using a host agency, booking websites are available at a number of host agencies. Visit www.FindaHostTravelAgency.com and simply click on "Click Here to Start Your Search" and then select the "Is a Website Building Tool Available" and enter "yes". When this is done click on the red "Filter" button and well over 80 host agencies that offer booking websites are revealed. By evaluating each host agencies' value proposition you will find the perfect one for you.
Passport Online
Passport Online offers NexCite2 a robust fully designed website program including travel offers from nearly 100 leading leisure suppliers (preferenced for your preferred supplier options) social media integration, dozens of pages of destination content, electronic marketing tools, and agent DNA to provide profile information about you and your agents. It is mobile friendly. NexCite2 offers the major ocean and river cruise lines' content as well as tour wholesalers, vacation packagers and key resorts and all calls to action always lead directly back to your agency. Nexcite2 for Hosts allows you to empower your agents with their own digital presence with a "cloned" site that reflects your host agency branding and supplier preferences and their individual identity. Also, if you are integrating your online marketing with Facebook, Passport Online's ESP will allow you to post engaging content daily (or as often as you would wish to your Facebook Business page. Visit Passport Online at http://www.passportonlineinc.com
Online Agency
Operating third party travel agency websites for over 20 years, Online Agency boasts over 3,000 active users for their sites. Visit them at www.onlineagency.com

Voyager Travel Agency Websites and Social Media Manager
Voyager offers competitive pricing for both social media management and travel agency websites. Voyager sites are visually stimulating and offers an easy-to-use user interface. Visit them at www.voyagerwebsites.com
Agent Studio
This is another third party travel agency website supplier. While not as robust as Nexcite2, Agent Studio is used by a good number of travel agents as their primary site. Visit Agent Studio at www.agentstudio.com.
VacationLabs
While not really a third party booking website, Vacation Labs  offers robust travel industry websites for both travel agencies and travel suppliers. It is perfect for niche oriented websites and VacationLabs also offers web hosting and support. Visit them at www.VacationLabs.com.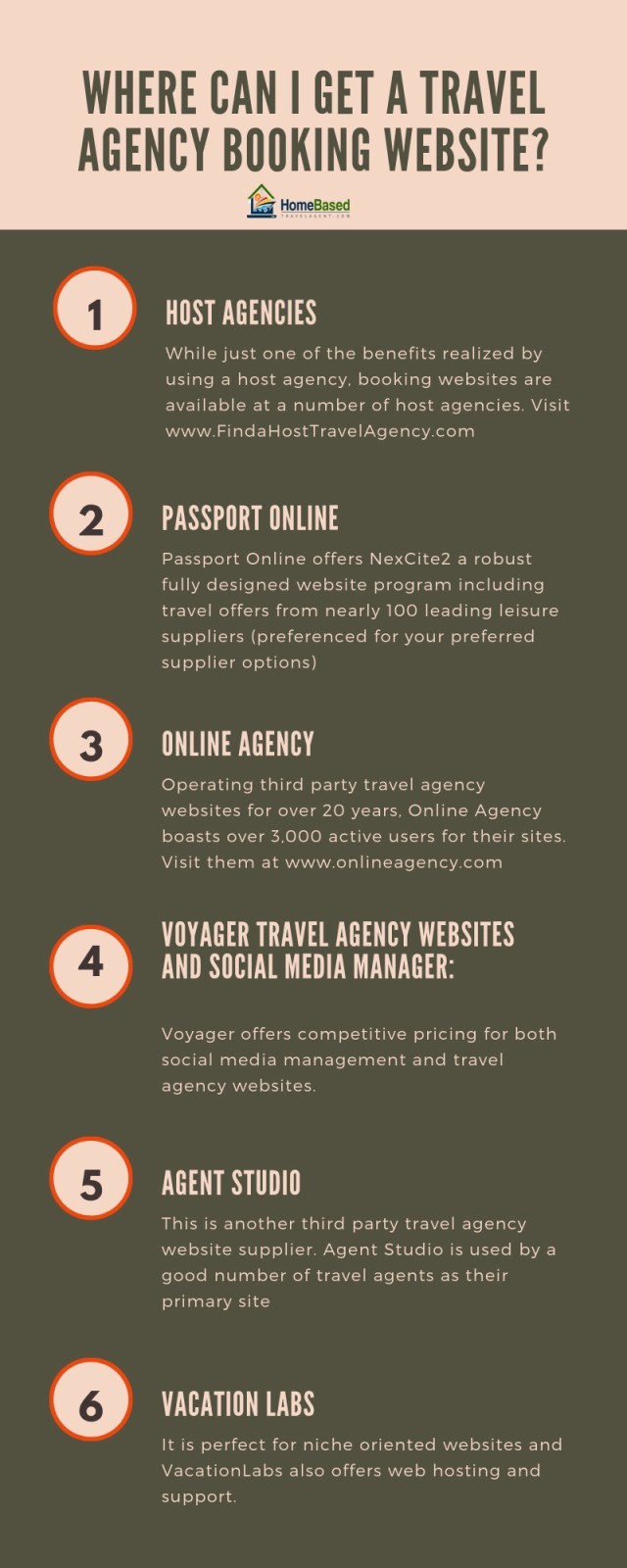 Where Can I Get a Travel Agency
 

Online Presence or Other Website?

There are hundreds of websites that allow you to build your own site using their tools. Depending on what you want to create there are some sites that seem especially viable for travel agency websites. While this list is intended to give the reader enough sites to check out, it is by no means complete, but you should find the right tool for your needs in this list.

All of these sites are "build your own" rather than being a third party booking website. They offer the user an intuitive and easy-to-use interface that does not require any understanding of code whatsoever. In most cases you can build a website quickly and easily. Note that many of these sites offer "Free" websites, but they come with ads served from the host's website. These "Free" sites are simply not consistent for the purpose of a travel agency website.

Also, while these are great for those with no or little experience at building websites they are also appropriate if you want to create a special group, landing page or any other travel agency website. They allow you complete control over the content in your site.
Here Are the Top Ten Travel Agency Website Builders
AtlasRepublic.com:
Offers a robust travel agency / tour operator website specific web building tool.  From content development to measurement and tracking tools, Atlas Republic is a great choice to build your website. Note that this company is owned by a travel agent. Contact www.atlasrepublic.com for more information and pricing. 
Wix.com:
Wix is an easy-to-use website creation tool that allows you to create your business website quickly and efficiently. Wix offers several plans for websites which start at $13 per month.  Visit wix.com for more information.
Weebly.com:
This is a great tool for building travel websites. Weebly also offers domain name registration, web hosting and just about everything else that you may need to get your online presence website up and running. Weebly's programs start at $12 per month.  Visit www.Weebly.com. 
WebFlow.com:
This site offers over 100+ web templates, web hosting and just about everything you will need to launch a formidable online presence. They offer programs from $12 (personal website) to $36 (for a business website). Visit Webflow at www.Webflow.com.
Mobirise.com:
If your client base is using smartphones to access your content, then Mobirise may be the right tool for you. It is a downloadable tool that allows you to create websites that are totally mobile friendly. It features an easy-to-use interface that is quite intuitive. There is no charge to download the tool for Windows and Mac. Visit www.mobirise.com.
Squarespace.com:
An easy to use website building tool that will accommodate e-commerce, as well. The cost is between $12 to $40 per month. Squarespace offers a good number of travel and tourism templates that you can use for a very professional look and feel. Visit www.Squarespace.com.
GoDaddy.com:
Everyone knows about GoDaddy and as you would expect, they do offer a web building tool and hosting. "GoCentral Web Builder" is the name of their tool and is very easy to use. While pricing to use the tool and host a site with GoDaddy is relatively inexpensive, there are several better options in my opinion. Visit www.GoDaddy.com. 
1 & 1 IONOS.com:
Offers a website building tool comparable to GoDaddy's. They have hundreds of predesigned web templates to choose from and can also host WordPress sites if that is the direction that you are heading. While IONOS offers several different plans, they are all inexpensive. Visit www.ionos.com.
Vevs.com:
While not particularly a general website creation tool, Vevs offers turn key websites for the marketing of rental properties. This would be an excellent choice if you are interested in diving into the "Shared Economy" by promoting vacation rentals by private owners to consumers. The cost starts at $8 per month for up to 5 properties and goes up to $83 per month for up to 250 properties. There are also "canned" business sites available. Visit vevs.com for more information.
WebsiteBuilder.com: Here is a tool that you can build websites with for free. Their business platform costs $14 per month and you can upgrade the free site to the business platform once it is everything you want. Visit WebsiteBuilder.com for more information.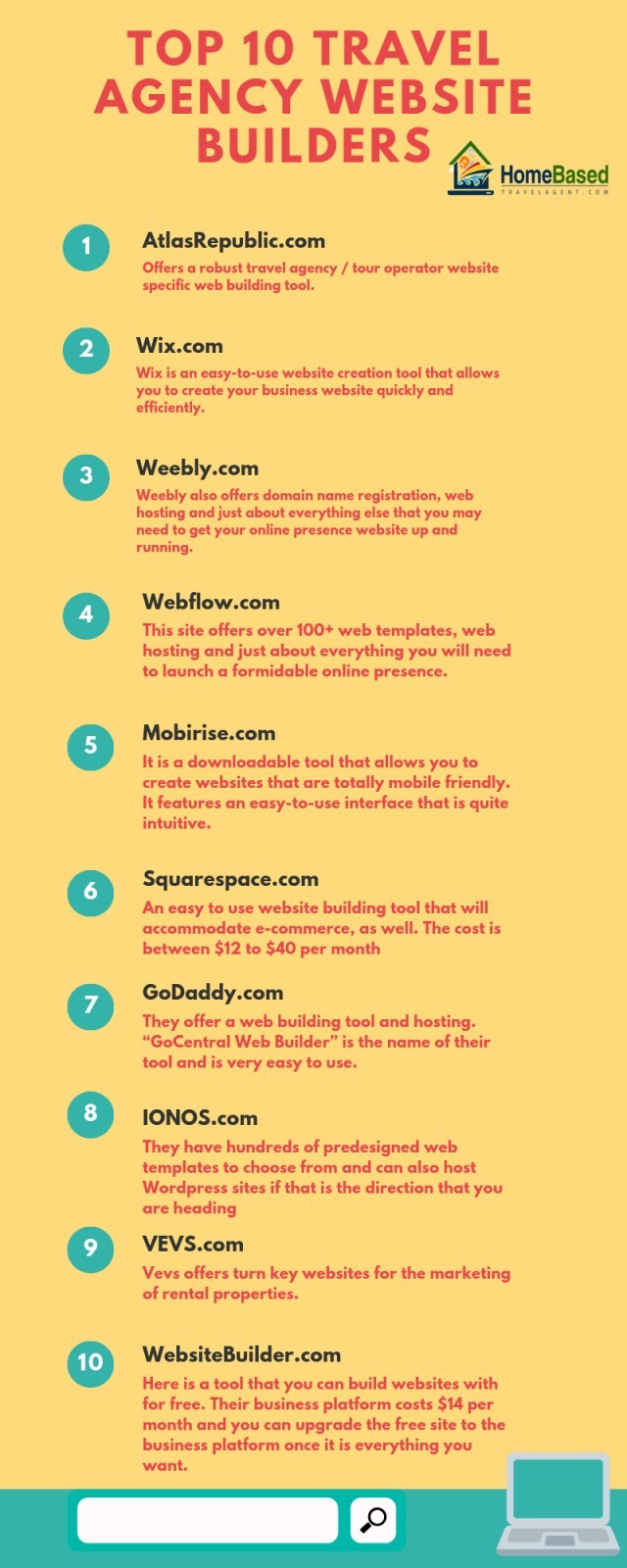 10 Additional Website Builders
tilda.com: Easy to use drag and drop website builder. 
webflow.com: A great site for developing modern business websites.
bookmark.com: Here is another excellent website builder that can easily churn out a wonderful travel agency website.
ucraft.com: Create beautiful websites with absolutely no coding,
site123.com: Super easy to build a travel agency website using this tool. 
webnode.com: Easy to use and completely free to build your website.
jimdo.com: With a "Travel Blog" template ready to go, if you are looking for a blog, check this one out.
pagecloud.com: With several Travel and Tourism web templates to start with, pagecloud offers an easy-to-do tool for creating engaging travel agency websites.
uKit.com: Has over 350 web templates including several travel templates.
webstarts.com: This free cloud based tool allows users much more access to the underlying code and is a great choice for those that know and understand CSS and HTML coding. However no coding is needed to create sites with Webstarts.
strikingly.com: Here is another quality "no coding, no design experience" website builder.
As you can see there are many solutions for building website that meet the needs of travel agents. In Part 2 of this article we will explore the more sophisticated kinds of travel agency websites that will use SEO to gain organic (free) traffic based on consumer search with keywords.