So far we have explored travel agency website basics and where to get a travel agency booking website and a travel agency online presence website. Before we move on to explore more sophisticated travel agency websites we must first develop an understanding the role that Search Engine Optimization (SEO) plays regarding the creation of organic, or non-paid traffic to your website. 
Understand that the basic types of websites that we have discussed are not likely to generate organic (aka FREE) traffic based on consumers doing keyword searches in Google or other search engines as they are more dependent on links from your sites and other online and offline advertising for traffic.
While more sophisticated travel agency websites are dependent upon SEO to continue generating organic traffic, if you are looking to get into the organic traffic area of website marketing you should understand the roll that SEO may play in your future. This article is not meant to be an article on SEO, but rather just a general overview so that you may develop an interest in understanding SEO and how to comply with the intent of SEO on your web pages. SEO has become so evolved that it is almost an exact science at this point and if your travel agency website will be dependent on organic traffic for results, SEO is something you may want to study and become proficient at.
In order to gain high Search Engine Results Page, or SERP one must conform to several formats that search engines like Google look for in content they will reward with organic traffic. 
Here are 11 SEO elements you need to understand.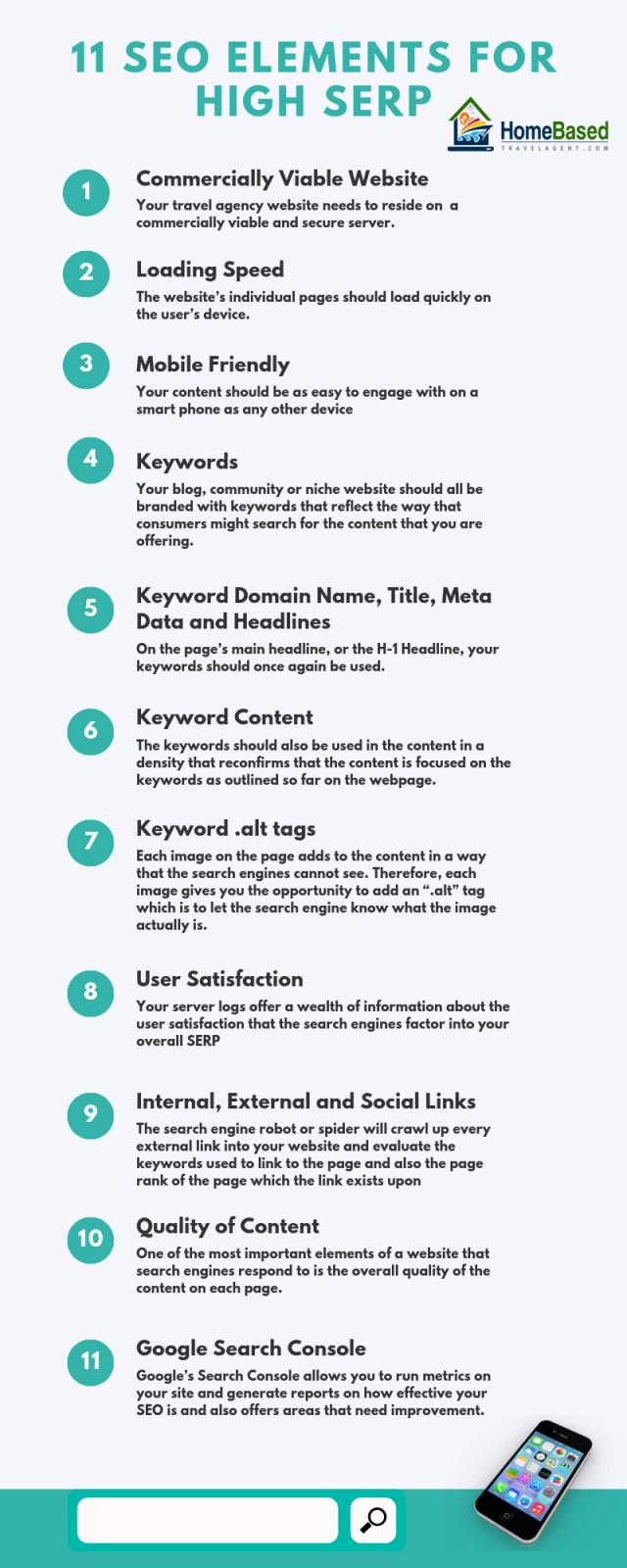 11 SEO Elements For High SERP
1. Commercially Viable Website
Your travel agency website needs to reside on  a commercially viable and secure server. While having SSL enabled and displaying "https" isn't necessarily a requirement for SERP, it adds to the user experience which is critical to gaining high SERP. The site should be created in the current level of HTML, CSS and any other code that is used to build the site. Rock solid code is essential. Also, the website must be responsive to mobile devices and perform equally well with desktop, notebook, tablet and smart phone devices.

2. Loading Speed
The website's individual pages should load quickly on the user's device. This can easily be accomplished by using super clean code and optimized images and graphics. 
3.
 

Mobile Friendly

It isn't enough to have your desktop and notebook version of your responsive website perform, but the mobile version of it must, as well.Delivering fast loading, intuitive and engaging content to smart phones is becoming more and more important every day. Your content should be as easy to engage with on a smart phone as any other device. This is especially true if you are marketing to Millennials.
4.
 

Keywords

Understanding the importance of keywords to your search engine rankings is critical to your website's success. This is where operating within a niche makes total sense. Your blog, community or niche website should all be branded with keywords that reflect the way that consumers might search for the content that you are offering. 

Let's assume that we specialize in packaging fishing  trips to Puerto Vallarta's ocean reefs and banks with a focus on cow tuna. Obvious keywords would be "Puerto Vallarta Cow Tuna Fishing". And, other keywords that might be used as page titles might be "Puerto Vallarta Cow Tuna Fishing at Tres Marias, or El Banco, or La Corbetena".

If the keywords were used properly then someone searching the keywords "Cow Fishing at Tres Marias" should find that page of the web in search results. While Puerto Vallarta is not in the search string, search engines will intuitively know that Puerto Vallarta is the location for cow tuna fishing at La Corbetena.
5.
 

Keyword Domain Name, Title, Meta Data and Headlines

Continuing with the above example, using the keyword domain name of "PuertoVallartaCowTunaFishing.com" would be a great name that pretty much tells search engines what the site is all about. To reinforce the subject of the website the home page Title would be "Puerto Vallarta Cow Tuna Fishing" and the Keywords might include "Puerto Vallarta Cow Tuna Fishing, El Banco, La Corbetena, Tres Marias" and the description tag might read "A website about cos tuna fishing in Puerto Vallarta's offshore banks of El Banco, La Corbetena and Tres Marias." 

The META Data all resides in the <HEAD> portion of the website and the <BODY> portion of the website contains the content portion. It is also very important that the keywords are used in the structure of the <BODY> format. On the page's main headline, or the H-1 Headline, your keywords should once again be used. In our example "Puerto Vallarta Cow Tuna Fishing" would be the H-1 Headline. The sub-Headlines, or H-2 Headlines would again carry keywords and so on.
6.
 

Keyword Content

Once the web page is formatted correctly using the appropriate keywords for the page it is time to drop the actual content onto the page. The keywords should also be used in the content in a density that reconfirms that the content is focused on the keywords as outlined so far on the webpage. However, it is important to not "stuff" keywords or use "Black Hat" tactics like using background keywords hidden from view of the reader and such. 
7. Keyword .alt tags
Once the page is properly tagged and the content is established with realistic keyword density, it is time to add a few more tags. Each image on the page adds to the content in a way that the search engines cannot see. Therefore, each image gives you the opportunity to add an ".alt" tag which is to let the search engine know what the image actually is. This is a great place to use your keywords, again in a reasonable way to let the search engine know what the page is about.
8. User Satisfaction
Search engines pour over your server logs to see exactly what your bounce rate (the number of people that arrive on your site (but don't stay). It also looks at the average time visitors stay on your site and which pages are the most popular. Your server logs offer a wealth of information about the user satisfaction that the search engines factor into your overall SERP.
9. Internal, External and Social Links
The search engine robot or spider will crawl up every external link into your website and evaluate the keywords used to link to the page and also the page rank of the page which the link exists upon. The more links on the higher page ranked sites, the higher the impact on the site's SERP. The spider will also crawl the internal links on your site and evaluate their importance, as well. Your social media links also contribute to your SERP. Google treats Facebook, Instagram and Twitter posts just like any other web page.
10. Quality of Content
One of the most important elements of a website that search engines respond to is the overall quality of the content on each page. Search engines like thorough and complete content with specific keywords, tagged images, a youtube.com video (especially Google), complex infographics which also add to the user's overall experience as tracked by the page's bounce rate, time on page and inbound links.
What search engines do not like is duplicate content, weak content with a low word count and mis-tagged content with a high bounce rate. If you are using content that is delicate content on your site you should include a "noindex" or "nofollow" meta tags in the head section of the webpage. This will tell the search engines not to rank that page and keep you from getting dinged with duplicate content. 
11. Google Search Console
These are just some of the more important elements of gaining a high SERP. Fortunately Google gives you everything that you need to get your travel agency blog, community or niche website higher rankings. Google's Search Console allows you to run metrics on your site and generate reports on how effective your SEO is and also offers areas that need improvement. GSC takes the mystery out of gaining high SERP.
As you can see SEO is not rocket science and if you pursue handling the SEO for your website it will become second nature, as you build your website. However, it is important to understand the importance of website structure and SEO. This is certainly going to be a consideration if you select a more complex website format in your quest for a web presence.