It has become painfully obvious that travel agents who operate within a narrow niche at which they have gained "expert" knowledge of are normally quite established and profitable. It is this "expertise" that makes an agent successful and is what clients are seeking for when they search for an agent. Today's reality is that just about all clients have researched details of a vacation he or she is planning on the Internet (especially Millennials) and will book with an agent who knows more than they do having done the research.
For many newer agents, his or her niche may have been the motivation to enter the travel industry. Maybe they were interested in fishing throughout the world and have gained considerable experience and knowledge that they bought to a business specializing in arranging international fishing trips for individuals and groups. Perhaps they are keenly interested in the Amazon River basin and have been there numerous times exploring the upper Peruvian Amazon. Their interest and experience could easily support a business creating itineraries for individuals and small groups. Agents focus on niches such as luxury travel, river cruising, foodie travel and so on. Just about any hobby, interest or experience could be the very essence of a travel niche.
If you are an established agent with a traditional book of business, but would like to move your agency into a high yield niche market, here are some things to think about.
Exploring the Travel Niche Idea
Like all businesses, evolving a travel niche starts with an idea. As we will explore later in this article, there are many ways to come up with a viable travel niche. The most important thing is to remember the five "Ws" What, When, Where, Who and Why. This will help you focus on the actual viability of a travel niche concept.
What?
What are you going to be selling and what do you need to gain in terms of knowledge, experience and skills?

When?
When will you launch your travel niche and when will it hit the tipping point in terms of viability?
Where?
Where will you be operating your travel niche and where is your market going to be?
Who?
Who will the potential market be and how will you reach them?
Why?
Why will your target market purchase your niche products? Why will they be responsive?
What is Your Profit Objective?
Running a profitable niche travel business depends on the yields that are generated by the transactions an agency processes. Your business plan should give you insight into what your agency's potential profitability might be. Moving into a specific niche should improve the agency's yield performance. It is imperative that one understands the impact of niche yields and how they will affect his or her overall profitability. Developing a niche market is one way to dramatically increase yields and subsequent profit performance.
Choosing the right niche for your agency should start with a clear understanding of the capacity of a niche to support the intended profitability of your business plan. The advantage of selling niche products and services is that you may become expert at processing extremely complex transactions with speed and accuracy. This can dramatically help improve your profitability. As you can see your travel niche needs to meet your overall profitability requirements.
Moving forward let's now take a look at the ways to find your specific travel niche. Remember that a travel niche has three elements First is where, then what and finally who.
Your Destinations
Many travel agents favor one or two destinations and have a considerable amount of information and expertise in them. If you are expert at an international destination and may even speak the language spoken there, you are in a great position to start narrowing your niche down. As an example, I have personally been to Hawaii hundreds of times and actually worked for Aloha Airlines in various marketing positions for a 12-year period. I escorted hundreds of travel agent fams during that time and knew just about every hotel, resort and condo in the visitor market well enough to start a Hawaii wholesale tour company doing FITs in Hawaii on behalf of travel agents. What destinations are you expert at? Which destinations do you want to become expert at? This will develop the answer to the question; Where?
Your Hobbies and / or Sports
I am sure that all of us have hobbies and / or sports that we know a lot about. Many times a passion for a hobby can lead to a very specific niche. The same is true about sports. If you love to fish and know a lot about fishing, then packaging travel for fishermen makes a ton of sense. As an example, let's say that you are an expert on Alaska and have been there fishing numerous times. It would make sense that packaging fishing trips to Alaska would be an opportune niche. A focus on your expertise will ofter answer the question; What?
Your Social Network
We all have an extensive social network of friends, acquaintances, business relationships, social media friends, friends from high school and college and so on. This will probably serve as your primary contacts for potential customers. Especially if you are engaged with groups within your potential niche. The answer to this question will define the Who?
Your Passion
The most important element of building a successful travel niche is your passion for the niche itself. Don't bother pursuing a niche if you are not completely passionate and excited about it. Your passion is what will drive the success of your travel niche.
How to Discover Your Perfect Travel Niche
We have already discussed the roll that the destinations you are passionate about, your hobbies and / or sports that you love, your social network and passion for your travel niche, here is how you should put it together. Here are 5 steps to finding your perfect niche.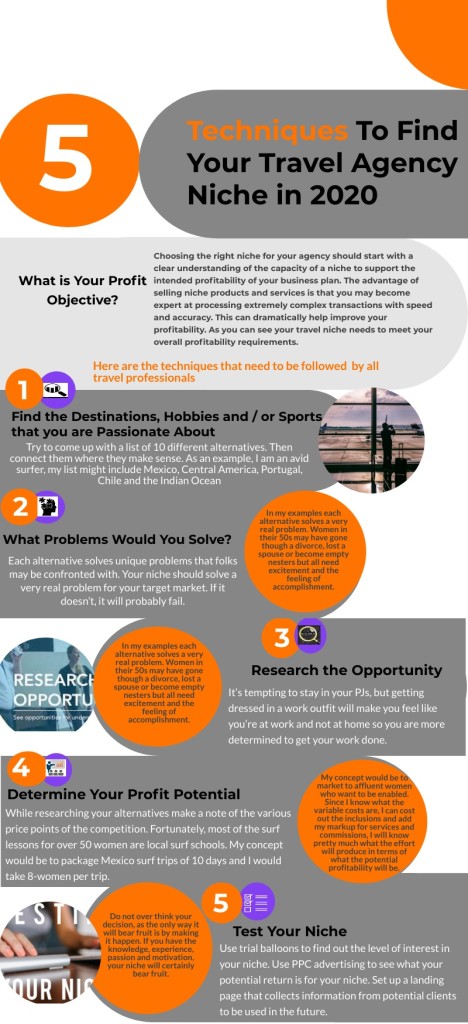 1. Find the Destinations, Hobbies and / or Sports that you are Passionate About
Try to come up with a list of 10 different alternatives. Then connect them where they make sense. As an example, I am an avid surfer, my list might include Mexico, Central America, Portugal, Chile and the Indian Ocean. I might want to promote enabling women in their 50s to learn how to surf. Or, families that want to surf together. Or, a surf camp with famous surfers. Or, surfing explorations trips. As you can see there are a number of alternatives which all make sense.
2. What Problems Would You Solve?
In my examples each alternative solves a very real problem. Women in their 50s may have gone though a divorce, lost a spouse or become empty nesters but all need excitement and the feeling of accomplishment. Learning to surf past the age of 50 is something of keen interest to those women that may have not been able to express themselves for any number of reasons. Each alternative solves unique problems that folks may be confronted with. Your niche should solve a very real problem for your target market. If it doesn't, it will probably fail.
3. Research the Opportunity
Use the obvious keywords for each alternative you have developed. I just searched the alternative of teaching women over 50 to surf and guess what? It must be a great idea because there is page after page of companies that do it. If I believe that my concept is much better than the existing competition then I need to look even further. Continue researching your potential competition for each alternative until you come up with the alternative that makes the most sense with the least amount of competition.
4. Determine Your Profit Potential
While researching your alternatives make a note of the various price points of the competition. Fortunately, most of the surf lessons for over 50 women are local surf schools. My concept would be to package Mexico surf trips of 10 days and I would take 8-women per trip. It would include up scale accommodations, 9 5-star dinning experiences, surfboard rental, 10 hours of instructions, RT air and insurance. My concept would be to market to affluent women who want to be enabled. Since I know what the variable costs are, I can cost out the inclusions and add my markup for services and commissions, I will know pretty much what the effort will produce in terms of what the potential profitability will be. This information is critical to understand. How many groups would I have to take and at what yield to meet my overall business plan?
5. Test Your Niche
Use trial balloons to find out the level of interest in your niche. Use PPC advertising to see what your potential return is for your niche. Set up a landing page that collects information from potential clients to be used in the future. Use social media to measure what interest there may be in you specific niche. Once you have digested your test results you can make a decision to move ahead with your travel niche, or go back to the drawing board. And, never forget that analysis can lead to paralysis. Do not over think your decision, as the only way it will bear fruit is by making it happen. If you have the knowledge, experience, passion and motivation, your niche will certainly bear fruit.
Sample Travel Niches
In order to help you find your travel niche here is a list of more common travel specialties that may spark an idea for you. A travel niche doesn't have to meet any sort of criteria other than meeting your profit expectations and passion. Here is a list of the more common travel niches.
Remember that a travel niche focuses on clients that are interested in your niche and represents an opportunity to increase the overall yields in your business. As such, you should never waiver your focus on your niche. Yes, you may lose some of your current clients, but they will be replaced with higher yielding clients that will make you more profitable. Here is the list.
Destination Specialist
Agents specialize in a certain destination or region of the world and usually have strong connections in the tourism market and can make things happen for their clients that most agents cannot.
Luxury Travel
Agents specialize in selling luxury travel such as resorts, cruises and tours.
Destinations Weddings
Arranging weddings in offshore destinations is especially valuable for couples wanting to enjoy that special day of their lives.
Cruises
Many agents specialize in selling cruises and may focus on a particular niche within the cruise market such as river cruises, exploration cruises, freighter cruising, luxury cruises, world cruises, themed cruises and such.
Disney Travel
Agents specialize in selling everything Disney and offer clients in-depth knowledge of how to get the highest ROI from their Disney vacation or cruise.
Complex Travel
Agents specialize in selling complex itineraries, usually in a particular region of the world.
All-Inclusive Resorts
Agents focus solely on selling all-inclusive resorts in areas like the Caribbean or world wide.
Corporate Travel
Specializing in handling the travel needs for corporations is a great niche.
Adventure Travel
Agents specialize in selling activities such as mountain climbing, river rafting, skiing, surfing, hunting, fishing, mountain biking, scuba diving, kayaking, paddle boarding, hiking and trekking, safaris, kayaking, zip lining, hot air ballooning, horseback riding and others.
Family Travel
Specializing in family travel as a niche can yield huge rewards. Having knowledge and experience with family friendly resorts and tours is what it is all about.
Senior Travel
Specializing in senior travel can have many rewards as seniors may be able to travel on short notice, take longer vacations, fill cabins and rooms in the off season for the savings that motivate them.
Multi-generational Travel
While cruises really lend themselves to multi-generational travel, more and more grand parents are wanting to take the whole family on vacations.
LGBTI Travel
Many agents specialize in the LGBTI travel niche and offer valuable services for the LGBTI community. Helping travelers find safe and accommodating vacations is what it is all about.
Wellness Travel
Specialize in helping clients enjoy such things as yoga retreats, wellness spas, thermal resorts, weight loss retreats and such.
Gastro Tourism
Focusing on foodies that want unique and engaging dining experiences such as gourmet cooking lessons, street foods in emerging markets, farm to table dining experiences, wine or liquor focused vacations, the pursuit of unique culinary experiences internationally, regionally or even locally.
Medical Tourism
Millions of people travel to offshore locations to have surgery that may either be too expensive or not available in the United States. Specializing in helping them find the right solution is a valuable service.
Sports Tourism
Sports enthusiasts that enjoy sports such as horse racing, baseball, football, soccer, hockey, rugby and basketball travel to sporting events, training camps, clinics and such.
Golf Travel
While golf is a sport, specializing in arranging domestic and international golf trips is an excellent niche that many agents pursue.
Bucket List Travel
Selling "before you die" experiences is a wonderful way to specialize. Start organizing unique experiences such as a cruise through Vietnam's Ha Long Bay or exploring Jordan's Petra ruins.
Agritourism
Pursue a niche focused on selling international garden tours, botanical gardens, plumeria collecting in Thailand, working farm stays, dude ranches, wineries and such.
Voluntourism
Many clients believe helping others in need as a great way to spend their vacation. Natural disasters, areas of extreme poverty and children's needs are just some of the charitable work accomplished through volunteerism.
Honeymoon and Vow Renewal Travel
Planning honeymoons and vow renewal vacations is an excellent way to focus on a niche.
Faith Based Tourism
Specializing in pilgrimages, missionary trips, holy sites and religious cultures around the world is an excellent niche.
Special Needs Travel
Focusing on those travelers and their families that have special needs is a rewarding and excellent niche. Understanding how to arrange for seamless travel for those with special needs is a very valuable asset for your clients.
Pet Friendly Travel
Arranging trips for families with pets is a rapidly growing market, Having the knowledge of pet friendly destinations, resorts and hotels is a very valuable service to those with furry friends.
Women Only Travel
Planning women only and girlfriend vacations is very popular for weekend getaways, cruises, all-inclusive resorts or tours and can be a very lucrative niche.
Motor Coach Travel
Offering weekend motor coach tours or longer tours is a thriving niche one can easily enter.
Mancations
Guys love to travel with their buddies and offering vacations for men only is a growing niche.
Shopping Tourism
Europe's Christmas Markets, Alaska's end of season cruises and Bali's unique art and products are just a glimpse of the shopping tourism market place. Handling the coordination for shoppers is a great niche to be in.
Millennial Travel
One agency charters complete cruise ships and hosts parties focused solely on the millennial market. Tour companies such as G Vacations packages world wide tour product for the millennial market exclusively. One can easily sell these products and their own to the millennial market in their location.
Music Tourism
Many people love to travel to concerts, take jazz cruises, several day long music festivals and anything regarding the musical world.