Vaccination Appears to be the key to a World with Travel: Here is how a Travel Professional can Benefit
Written By: Tom Ogg, Co-Owner – Travel Professional NEWS
Andy Ogg, CTIE, Co-Owner – Travel Professional NEWS
Now that the COVID vaccine is being made available to the most vulnerable population in the United States and will drastically increase the potential number of COVID immune travelers on a daily basis, It is time to start planning for the future. There is no question that the travel business may look a lot different in the post-COVID era and will gradually morph into what it will become in mid-future. As travel professionals this poses both massive amounts of opportunity and challenge. Let's take a look at how the rollout of the COVID vaccine will impact the traveling population.
The objective of "Warp Speed" is to have 80% of the country's population immunized by mid to late June of 2021. Rather than try to estimate the process for the entire U.S. let's look closely at Arizona as a state vaccinating its citizens with a well thought out distribution plan and make the assumption that other states will take the same approach. This is very much in accordance with the CDC guidelines for the distribution of COVID vaccines throughout the U.S.
Vaccination Process Outlined
Phase 1A
The first to get it are the front line medical workers, emergency medial workers and long term medical care facility staff and residents. This started in December of 2020

Phase 1B
Starting January 11th, 2021 education and childcare providers, law enforcement / protective services, adults 75 or older, adults living in congregate settings and other essential workers.
Phase 1C
Adults of the age of 65 and older and adults of any age with high-risk medial conditions. No date set as of yet.
Phase 2
Any remaining phase 1 population, additional high-risk/critical population and the general population. This starts in the spring of 2021 and into summer, 2021.
Phase 3
Any remaining phase 1 or phase 2 population and the general public will be able to get vaccinated during the summer of 2021 and beyond.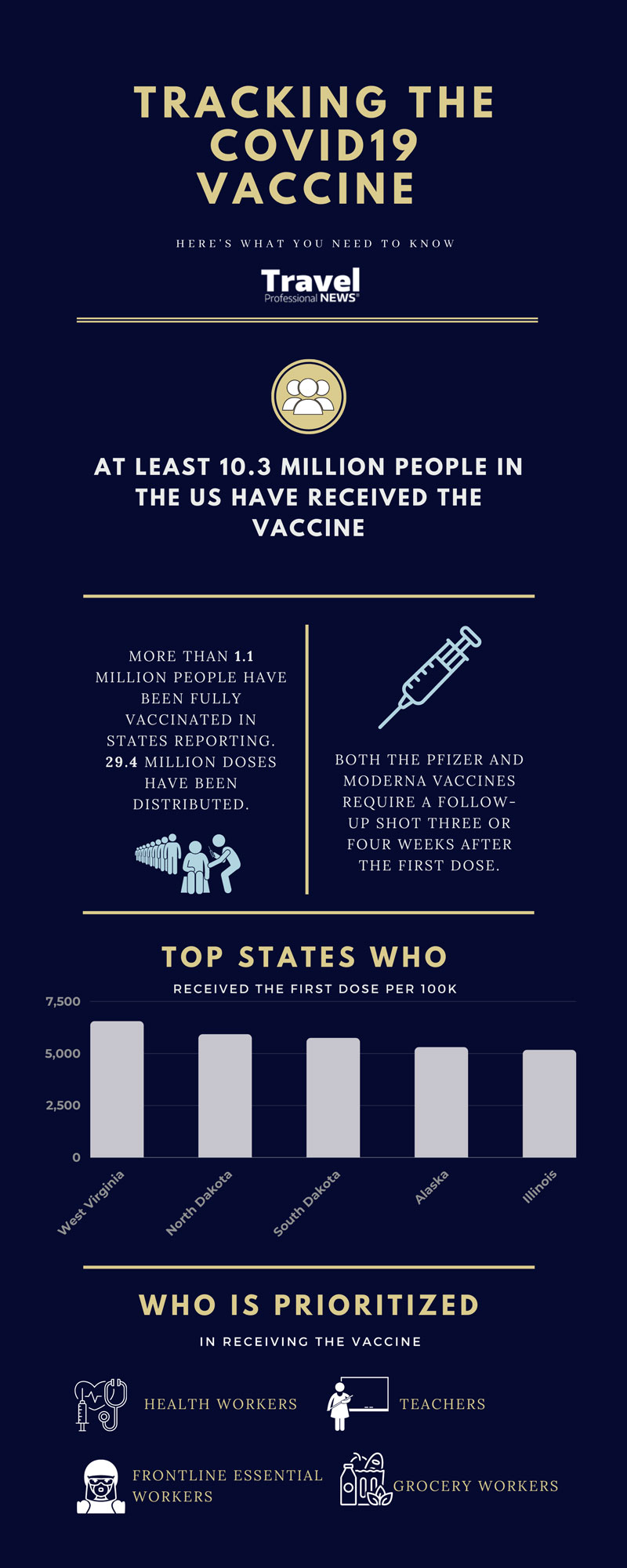 What does an ever-increasing flow of Potential Travelers Mean for Travel Professionals?
Simply put – BOOKINGS!
The vaccination process will not only encourage a hard immunity of the COVID-19 pandemic but will also allow those who receive the vaccine to move freely around the world with no concern. The vaccination process has been initiated in all 50 states in the US and is picking up speed every day that passes.
The Phase 1A contains many healthcare workers, doctors and first responders whom have been working harder than ever over the past 10 months. From overtime to no days off, these people are truly the heroes of our country during these very trying times. With vaccines distributed and months of hard work building their savings accounts, a prime candidate for travel in 2021 would be these heroes.
Travel Professionals, now more than ever, have been proven a necessity to the travel process. They not only know the rules, guidelines and protocols for safe travel but Travel Professionals represent the client. As we all have seen or experienced in the past 10 months, the power of partnering with a Travel Professional is crucial when booking any travel as we move forward to a post-COVID world.
Travel Professionals who are ready, poised and eager to get their business moving forward, now is your time.
How to Prepare for the Upcoming Travel Boom:
During the past 10 months, many Travel Professionals took advantage of trailing, education and business building opportunities such as the Webinars offered at wwwTravelProfessionalNEWS.com.
For those of you have invested in your education, business and knowledge in the past months, it's time to apply the lessons learned. Start building your business back to it's success by being organized, updated and ready to seize the opportunity that is arriving. Although, the work may be "different" than pre-pandemic times, the opportunity to apply your learnings and skills are just as valuable and crucial as we return back to a world of travel.
What types of travel will become the most desirable as the numbers of potential travelers continues its increase and pent-up demand explodes?
First and foremost you should be completely in touch with your niche product and/or destination and be communicating COVID updates to your following as they take place. You should also expand potential new clients interested in your niche by promoting your niche updates on every platform out there. This is your opportunity to establish yourself as the expert on your specific niche. Start a PPC program targeting people interested in your niche. Start a social media group for those targeting your niche. Publish a keyword website focused on the COVID recovery aspects of your niche. Get your expertise and knowledge out there so people can find you and access it. Domain names ending in COVIDUpdate.com are widely available and inexpensive as are PPC keyword prices. Take advantage of this opportunity to build your email list and potential client profiles.
Many different types of travel will experience strong demand based on the aftermath of the covid pandemic once enough travelers have been vaccinated. Let's take a look at each sector and explore possible opportunities.
Domestic Travel
Domestic travel is already seeing an explosion of interest as many travelers have chosen to pursue vacations where distancing and following the CDC's protocol for mask wearing, social distancing and hand washing are readily available. Here are some potential opportunities to cash in on this phenomenon.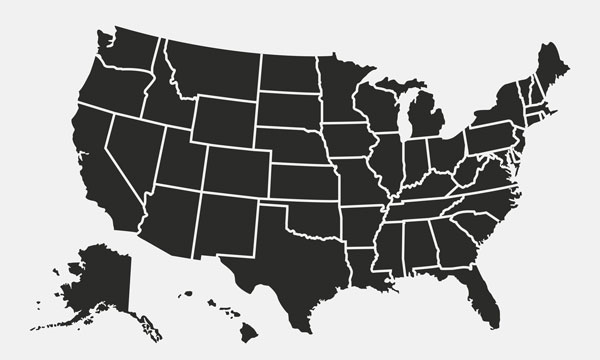 Domestic Drive-To Vacations:
Look for there to be strong demand for drive-to destinations with multiple visit points. Itineraries like the following offer opportunities to package hotel, resort, attractions and in a bundle which can then be sold as a complete package. Of course, every effort in packaging should stress "COVID Safe Accommodations". There are hundreds of road trip apps, but as the COVID pandemic has taught all travelers, there is nothing like having a travel agent on your side. And, having up-to-the-minute and knowledgeable advice for folks that want to take a road trip is completely invaluable to travelers.
"The Pacific Coast Highway" which covers over 1, 650 miles from the tip of Washington to the Southern border between San Diego and Mexico. This can easily be broken up into several itineraries and sold as modules.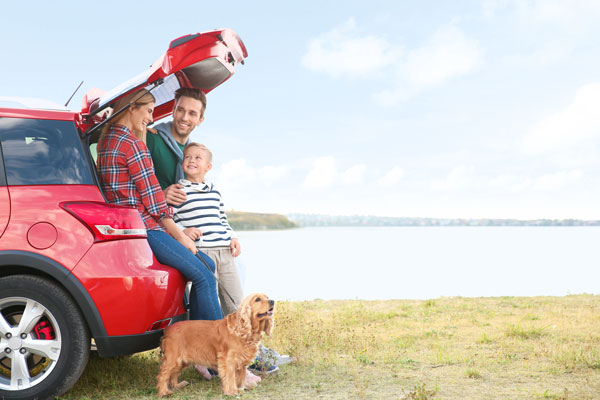 "Highway 1 From the Canadian Border to Key West" Again, this road trip can be broken into so many obvious segments that it could turn into a huge business all by itself.
"Route 66" Starting in Chicago and ending in Santa Monic, California Route 66 covers over 2,400 miles and can easily be broken into several segments. After all, who has never wanted to drive the famous Route 66?
Other routes like route 6, route 20, the Blue Ridge Parkway in Virginia, the Olympic Peninsula in Washington, Going-to-the Sun Road in Montana, Red Rock Country in Arizona, the Historic Columbia River Highway in Oregon and many more offer post COVID opportunities for travel professionals.
Domestic RV Vacations:
Many travelers will be renting RVs to visit national parks, sightseeing and generally camping in lieu of taking an international vacation or cruise. By registering your agency with Cruising America, the largest RV rental company in the U.S. agents can earn a 10% commission on every sale. When you start to add up hotel and resort commissions along with RV rental commissions this becomes a very attractive proposition. There are several other RV rental conglomerates and cooperatives such as El Monte Motorhome Vacations and others that also pay handsome commissions.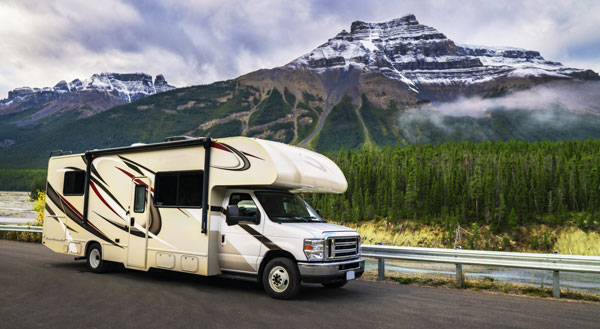 Domestic Adventure Travel:
There are so many opportunities to package adventure travel in so many states it is almost unlimited. Of course, your expertise will allow you to offer post-pandemic COVID safe adventures. Here are just some of the genres that offer packaging and marketing opportunities. Surfing, paddling, kayaking, fishing, scuba diving, snorkeling, mountain biking, rock hounding, rock climbing, hiking, trekking, river rafting, backpacking and camping, hunting, shooting, skiing, snow boarding, rock climbing, horseback riding, eco-tourism, birdwatching, off roading, sailing and voluntourism just to name a few. Each one of these genres are easy to reach in social media and other groups.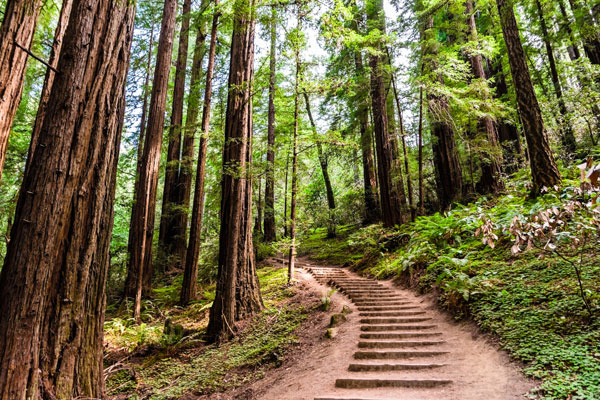 Private Home Rentals:
Families have not been able to gather together for almost a year and will be looking for private home rentals. If your agency is in an area where airbnb and VRBO have properties that they offer for family vacations don't be hesitant to reach out to the property owners and arrange a relationship where you can also offer the property. Beach, mountain, farm and other locations can make a wonderful vacation spot for multi generational vacations. By adding value in the way of COVID cleaning, concierge services and local knowledge you can generate a healthy income stream. While airbnb and VRBO were very successful during the pre-COVID era, consumers are going to want to be absolutely positive that the environment that they are renting is completely clean and safe for their family.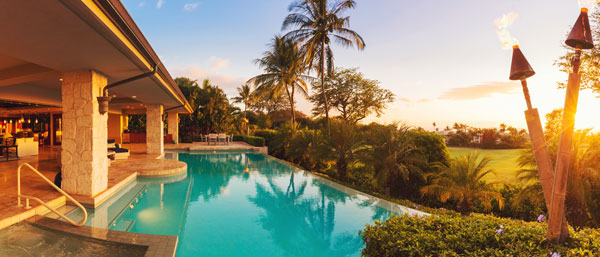 Domestic Resort Vacations:
Clients are also going to be searching for resort and vacation opportunities for multi generational get-togethers. Dude ranches, mountain lodges, beach resorts, ski areas, Disney parks and resorts and many other vacation types that cater to extended families of all ages will be in great demand.
Domestic Rail Travel:
Amtrak works with travel agents and planning an in-depth rail vacation for families makes a ton of sense post-COVID. Use rail as a vehicle to get the families safe and sound to their multi-destination vacation and earn not only on the rail event but also on resorts, hotels and sightseeing as well.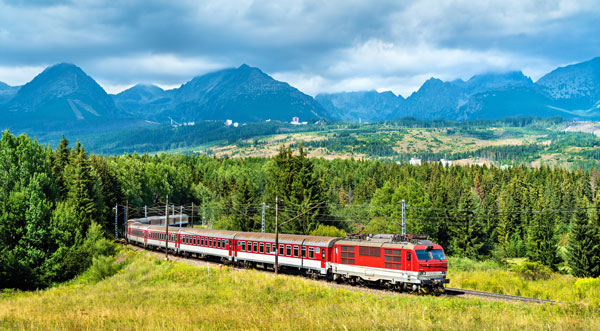 International Travel
The COVID or Immunity Passport:
While not yet a reality, it is only a matter of time before formal documentation is created for those who have been fully immunized becomes important documentation. Of the 50, or so countries that are open for U.S. citizens to visit, virtually all of them require documentation of a negative COVID test result taken within 72-hours of arrival in the country.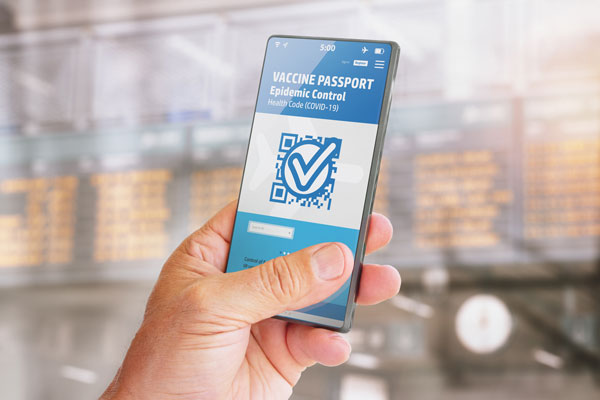 At the time of this writing there are several countries that have opened their doors to U.S. citizens, but globetrotting is still in the distance for the time being. As more and more citizens become immunized, look for more relaxed restrictions for travelers. Currently, there are some excellent vacations that folks can enjoy and focusing on these makes a ton of sense.
Open Countries Not Requiring a Recent COVID Test to Enter
Mexico:
The entire country of Mexico is open and accepting Americans with open arms. While crossing the border by automobile is still restricted, one can fly into Mexico's wonderful beach resorts and quaint mountain villages. No destination in Mexico is requiring a recent COVID test. However, Mexico City does currently have a substantial COVID-19 outbreak. The resorts in and around Punta de Mita in Nayarit are excellent choices for those wanting seclusion in a pristine beach environment.
Mexico is the logical choice for most travelers as it offers just about everything any vacationer could imagine. But here are the other countries that U.S. citizens are free to visit with no COVID testing. Albania, Belarus, Brazil, Dominican Republic, North Macedonia, Serbia, Tanzania and Turkey all have no COVID testing requirements and receive U.S. citizens with open arms.
What strategies should you enact to take advantage of the coming boom in travel?
As we begin to see the world of travel begin its resurgence, a Travel Professional can take advantage of the massive opportunities by targeted marketing, content creation and by actively seeking new clients. There will be an enormous amount of people who are itching to leave their home and get back out in the world. While the travel may not look exactly as it once did, the small differences will be overshadowed by the joy of adventuring our planet once again.
Target Marketing:
A Travel Professional who is looking to grow their business in these post-COVID travel sector should focus efforts on those who have been vaccinated. Whether it is healthcare workers, first responders or seniors, the power of targeting your efforts will prove fruitful. We offer a wealth of Free Downloads with positive messaging to promote travel here and they are all 100% free to download, use and help in your efforts.
The power of focusing your marketing efforts will not only provide you with qualified leads of individuals who are vaccinated and fiscally able to travel but it will also increase your lead list of future clients. While some may be ready to go immediately, other vaccinated travelers may be holding off until their desired destination or type of travel is open once again. Take the opportunity presented to educate these new leads about all of what you can offer them on their vacations.
While some clients may be a "cruising only" type of traveler, it may be worth the work to educate them about the fun and opportunities that an All Inclusive may offer them. While they may not be on the open sea, chances are that an All Inclusive would be a fantastic substitution for those who prefer cruise travel.
Content Creation:
If you haven't already used the past months to begin creating content to share on your website and social avenues, now is the time. An article with the possible title of "Vaccinated from COVID? 10 Places to Visit and Enjoy a Vacation" would not only rank highly in search engines but would also provide valuable content to consumers looking to get back into the world.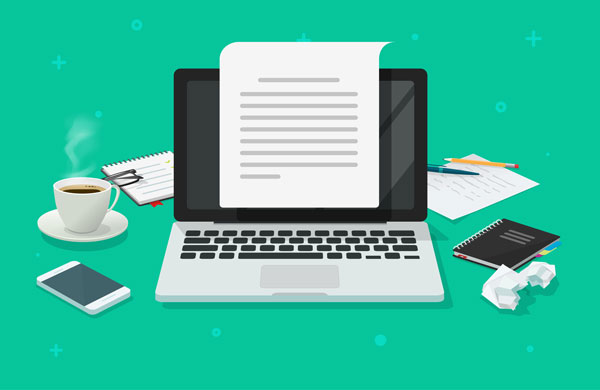 Make sure to visit our Resource center for relevant articles on SEO, article optimization and content creation. A successful process of content creation should be targeted, informative and also include answers to questions that they may have while contemplating their next trip. Whether it's regarding COVID protocols or regulations at the destination, offering a comprehensive and cumulative look at the real picture will not only back up your professionalism, but also empower your clients to make the right decision.
While COVID has been very uncomfortable for us all in the world, it has opened the doors to a realization of how much we can do as a population. How much we can change, alter and adapt to any given situation. Informing your clients of the reality that they can expect is a goal every Travel Professional should have as we get back to travel and back to business.
Actively Seeking Clients as a Travel Professional:
Obviously we always want to be respectful when seeking new clients and there are many ways to find new possible clients while doing just that. Utilizing the tools at your disposal can be a valuable tool to reach out to those on the front lines of the vaccination process.
Whether you utilize social media outlets or pre-existing contacts, a simple note about your willingness, expertise and knowledge of post-COVID travel may be all it takes to grab the attention of a nurse who has worked for 10 months straight, who is desperately in need of some rest and relaxation.
During this pandemic, the internet and online meetings have been an ongoing resource for all of us. One idea to create some new possible cliental for a Travel Professional may be to create a "Let's Discuss Vacations!" Zoom meeting. Even if the discussion is about the possibility of traveling once again, the exciting and enticing thought of travel may bring you a list of new clients that are eager and ready to get moving!
Obviously COVID changed the very nature of the way travel is sold. How can I take advantage of the changes?
The whole "Work From Home" phenomenon that COVID ushered in because of the quarantines and subsequent shutdowns has created a fundamental change in the way people are choosing to do business. Cruise, tour, air and land cancellations were rampant and consumers learned the absolute value of working with a travel professional. Here are some of the take-aways as we move into the post COVID era.
High Touch:
People booking their vacations and travel either directly with suppliers or through online agencies were left high and dry when their vacations were cancelled. Instead of having their money refunded, suppliers offered credit towards future travel. Consumers sat on hold for hours generally with no satisfaction whatsoever and the entire debacle left consumers with a horrible taste from the lack of customer service and support.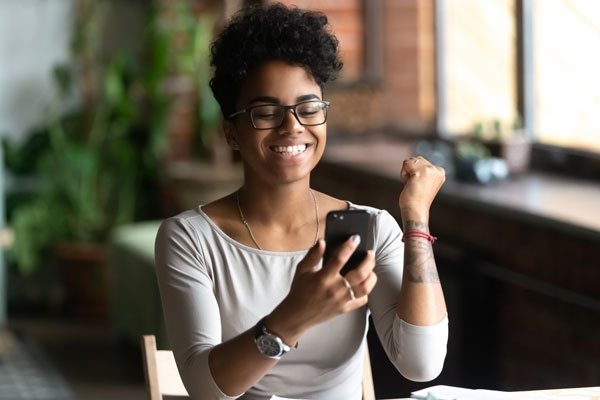 However, customers that had booked with their travel professional received exemplary service and support. The series of events that unfolded during the pandemic showed consumers the real value of a high touch relationship with a travel professional. You should stress this unique value proposition that you offer clients in being available to help with problems of all types.
Video Conferencing:
During the pandemic quarantine periods family, friends and neighbors all took to video conferencing and messaging to stay connected. Millions of people who had no idea how to video conference before the pandemic are now experts at it. The main beneficiary was zoom.com. Become an expert at using Zoom and ZoomRooms. Meeting with a family using ZoomRooms creates the kind of format and professionalism that makes doing travel presentations and meetings a breeze. Make video conferencing one of the mainstays in your agency and watch your clientele grow.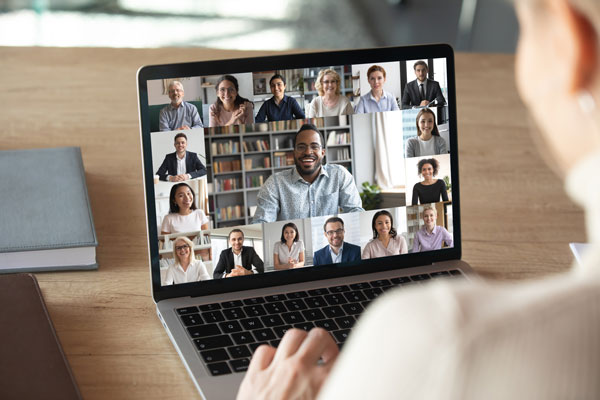 Online Shopping Goes Mainstream:
The dramatic increase of online shopping introduced millions of people to the reality that shopping on the Internet is easy. While the clients that booked online before COVID were dramatically impacted by the failure of online marketers to provide any customer service and support, people became fully knowledgeable about making purchases online with companies and brands they had a long standing relationship with. Look for this trend to continue as you move your agency into a high touch – high tech environment where your brand is you and your personal value proposition.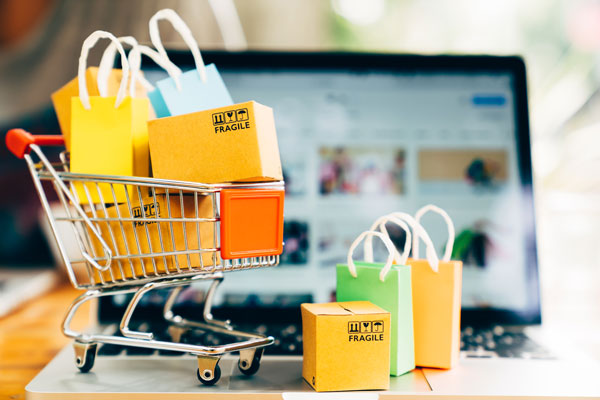 Digital and Contactless Settlement:
While once cash was king, COVID introduced tens of millions of people to making purchases using various digital settlement processes. Sites like Venmo, PayPal, Apple Pay, Google Pay, Square, 2CheckOut and ProPay all became common ways to pay for purchases without any contact whatsoever. This is going to make collecting service fees so much easier than pre-COVID.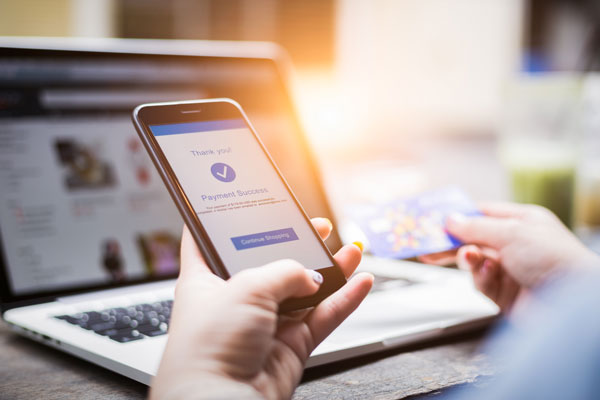 It will be so interesting to see how travel distribution unfolds as the recovery from the COVID-19 pandemic resides in the rear view mirror.