Your Travel Agencies Website is more than a link to share, it's your Digital Storefront.
Let's make YOUR Travel Agency Website work for YOU!
Written By: Tom Ogg, Co-Owner – HomeBasedTravelAgent.com
I talk with many agents that ask how they can develop more traffic to their websites, so I thought I would throw out a few ideas on ways that will work to create a steady flow of new potential clients. This list is intended to spark ideas that will work for you and each idea will need to be developed further by you before you implement it. Here are 30 ways to develop more traffic both online and offline.
Online Strategies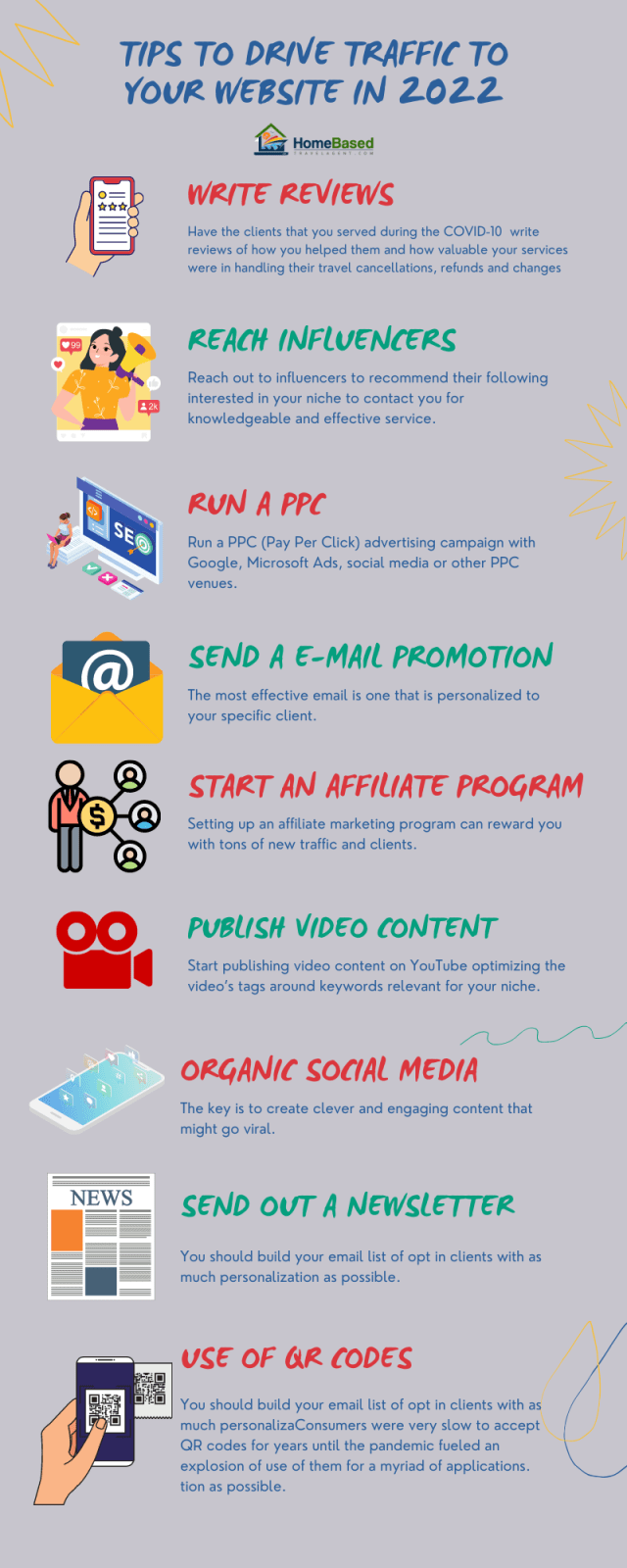 1. Have the clients that you served during the COVID-10 pandemic write reviews of how you helped them and how valuable your services were in handling their travel cancellations, refunds and changes. Ask them to do video clips of the most important elements of your service to them during the pandemic and then create a short montage of various client testimonials of why they would recommend you as a travel professional.
2. Reach out to influencers within your niche and engage them to recommend their following interested in your niche to contact you for knowledgeable and effective service. You can use discount codes on service fees for consultation and planning, links, reviews, testimonials and giveaways, all of which can be easily tracked for remuneration schedules for influencers. Develop a robust influencer marketing program within your niche and watch your traffic soar.
3. Learn as much as you can about SEO (Search Engine Optimization) and practice it every time you publish a page on the Internet. SEO is rapidly becoming a finite science and gaining familiarity with SEO elements such as keyword density, META, alt and other tags, improving page loading speeds, desktop, tablet and mobile-friendly content, quality and engaging content, increasing engagement by increasing time-on-site, refreshing aging content and other general white hat SEO practices.
4. Run a PPC (Pay Per Click) advertising campaign with Google, Microsoft Ads, social media or other PPC venues. The beauty of specializing in a narrow niche is that you can possibly pay low PPC fees on long-tail keyword search terms that will lead clients who are moving from research to buying keywords. Using this tactic might allow you to generate traffic at a profit. Let's say you budget $2 per click and your conversion ratio shows profit of $200 per sale with a conversion ratio of 1 sale per every 22 clicks, you can easily see how profitable a long-tail keyword PPC campaign can possibly be.
5. Send a well-planned, customer-focused e-mail promotion to a targeted list of your clients. Spend time on your e-mail's look and content. You want to offer value to customers and not have it appear to be spam. The most effective email is one that is personalized to your specific client.
6. Start an affiliate program and develop hundreds of sites that all link their traffic to yours and get visitors from sites with related content. Depending on your niche influencers are an important channel to pursue, but don't forget the businesses that you may have a symbiotic relationship with. Setting up an affiliate marketing program can reward you with tons of new traffic and clients.
7. Start publishing video content on YouTube optimizing the video's tags around keywords relevant for your niche. YouTube is the second largest search engine and publishing keyword video content is a great way to gain traffic. Let's say you are on a cruise, don't put a 50-minute video review of the ship and its amenities, think about breaking it into a bunch or short videos, each with its own keywords. Restaurants, cabins, shore excursions, fitness centers and other amenities should be in their own video using keywords that clients will use to find the content. Folks looking for information about a certain restaurant on a ship will not sit through a long review video of the ship, they would rather watch a short video on the specific restaurant.
8. Organic social media posts are capable of driven tremendous amounts of traffic to your website. The key is to create clever and engaging content that might go viral. Memes can be created for free and if they are creative enough may well be shared by hundreds, or even thousands of people. Cartoons and comic strips also can be very effective viral marketing tools that can generate organic traffic for your website. Infographics are another sure-fire way to gain organic traffic and can easily be created by a number of graphics programs such as Inforgraphia and Canva. Newsjacking is another way to gain organic traffic, but the news must be cutting edge and engaging.
9. Send out an e-mail newsletter that offers tips and news related to your travel niche with links back to specific pages within your site. You should build your email list of opt in clients with as much personalization as possible. Creating and sending highly personalized content is the way to make your email marketing campaigns really yield high returns. Digital newsletters, flyers and brochures can work wonders.
10. One of the most interesting aspects of the COVID pandemic is the use of QR codes by restaurants to access their menus. Consumers were very slow to accept QR codes for years until the pandemic fueled an explosion of use of them for a myriad of applications. Today they are under utilized by the travel industry that has numerous applications for them. Using QR codes for vcards that automatically allows clients to load your contact information into their "contacts" on their smart phone, links to landing pages, send an email, social media posts, videos and so many more applications.
More short Ideas to Get the Wheels Turning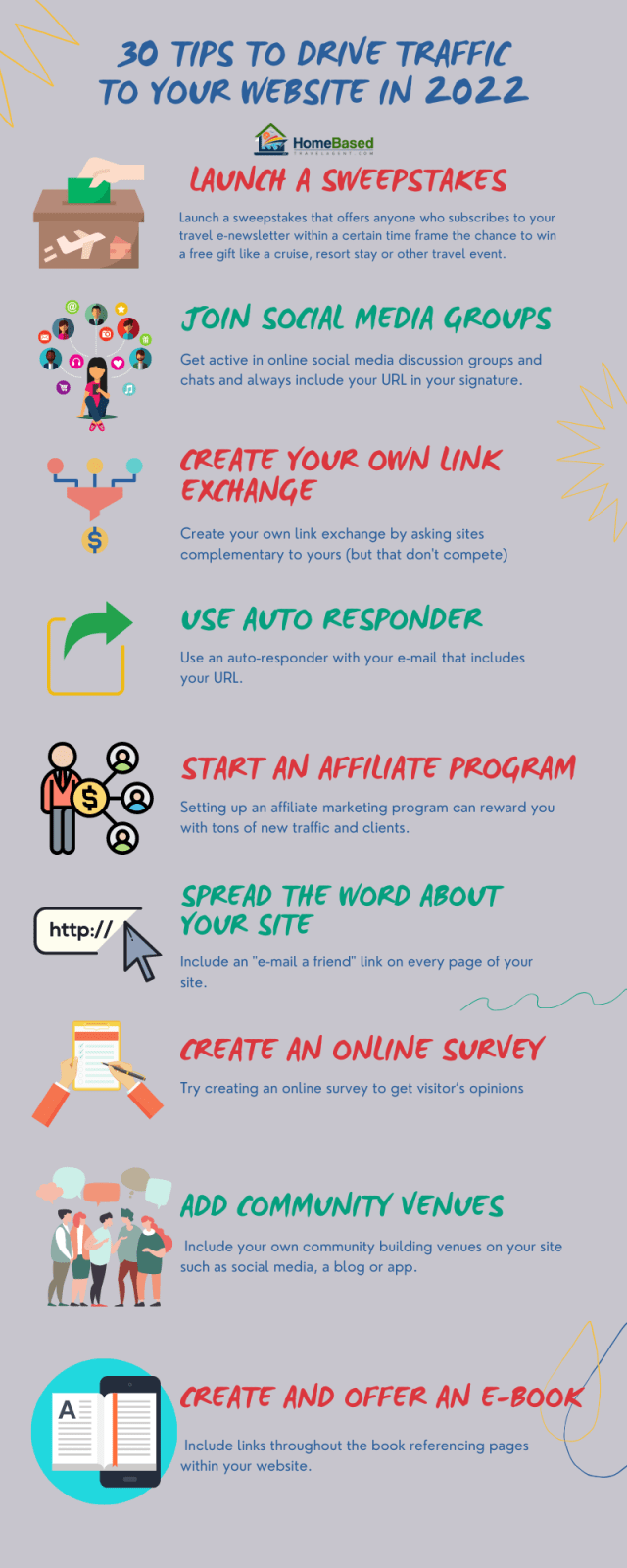 11. Launch a sweepstakes that offers anyone who subscribes to your travel e-newsletter within a certain time frame the chance to win a free gift like a cruise, resort stay or other travel event.
12. Offer free travel articles to other travel websites. The other site gets free content and you get a link back to your site and the prestige of being an expert within your niche. There are several sites that specialize in making travel articles available to publishers on the Internet such as ezinearticles.com.
13. Create your own link exchange by asking sites complementary to yours (but that don't compete) to put your link on their pages and you'll do likewise.
14. Get active in online social media discussion groups and chats and always include your URL in your signature. (Don't do any soliciting though. Most groups frown on such behavior and will think you're spamming the group.)
15. Use an auto-responder with your e-mail that includes your URL.
16. Motivate your visitors to spread the word about your site, include an "e-mail a friend" link on every page of your site.
17. Try creating an online survey to get visitor's opinions on what information they would like to see added to your site.
18. Include your own community building venues on your site such as social media, a blog or app.
19. Launch a "Name This Port" or "Name This Place" monthly contest. Publish a picture of a port or destination and have your visitors try to identify where it is. Award them with a baseball cap, tee shirt (or some other advertising specialty) with you logo and URL on it.
20. Create and offer an e-book on your niche that folks can download for free after they register for your newsletter and build it so that it can only be read online (Adobe Acrobat offers this feature). Include links throughout the book referencing pages within your website.
21. Use other selling venues like online classified advertising or online auction sites to increase exposure to your site and products.
Offline Promotions
22.  Always put your URL on your stationery, business cards and in e-mail signatures and wherever potential visitors are likely to see it.
23. Consider putting your embroidered logo and URL on your shirts, baseball caps and other clothing items so that you become a walking billboard for your site. Think about distributing grocery bags with your logo and url on them.
24. Include your URL on advertising specialty items that you give away, such as coffee mugs, T-shirts, key chains and so on.
25. Enter into a P.R. campaign by issuing press releases you send out to the media and always include your website info in your contact information.
26. Consider using your vehicle as advertising media by making it a billboard for your site by wrapping it. At the very least, include a sign on each side and rear of your automobile.
27. Make your URL your business name. As an example, eCruiseReviews.com pretty much says it all.
28. List your URL business name with Google's local business listings.
29. Open a CafePress.com storefront using your logo and URL to design products within your niche. When folks purchase the item, they become a walking advertisement for you.
30. Write travel articles for your local newspapers and include your URL in your contact information. Use an article writing service such as  Instantarticlewizardpro.com.