Content and What to Include in a Travel Agency Website
What Should a Travel Agency Website Include?
Travel is a topic that is perfect for the web and may utilize all aspects of web design and interactivity. Because of this, planning your website for the optimum design that will affect the results you are seeking. Never lose sight of your objective and always ask yourself "how is this element going to help achieve the website's objective." Here is a look at the more common elements. Each design element is intended to accomplish a specific goal. It's up to you to know what your goals are, then use that information to make informed decisions about each page on your site.
Video
Video is a very exciting element that is also very useful for travel agency websites. Nothing can motivate consumers more than an effective video. The best videos are ones that you have developed yourself. It is well worth the investment to learn video editing programs and also learning how to shoot quality content for your travel agency website. If you use supplier video on your website make sure that the supplier has allowed you to use it. Just because there may be embed code where the video is stored, doesn't indicate that the supplier is agreeing to let anyone use the video.
Photographs
"An image is worth 1,000 words" is true when it comes to travel agency websites. And, since a photo can be so powerful, you should carefully choose the images that you use on your website. Ideally, you would use photos that you have taken yourself that promotes your specific value proposition. Always make sure that you have the copyrights to use the photo to avoid potential lawsuits. Taking your own is the ideal solution as is using one of the stock photo sites out there that give you a printable licenses once you purchase the photo. Never just grab a photo that you find using images searches of Google or other sites as they will not carry authority to use the image. Also, only use photos that enhance your specific value proposition rather than are visually satisfying.
Graphics
Graphics can be especially motivating when they are relevant to the central theme of your website. Creating specific graphics has never been easier. Even if you are not a graphics design artist, there are hundreds of sites on the Internet that will connect you with talented graphic designers who can create wonderful graphics for a very small amount of money. While fiverr.com comes to mind for reasonably priced custom graphics, there are literally thousands of sites and graphic providers. 
Consumer Downloads
One motivating way to engage potential new clients is by offering downloadable ebooks, white papers, flip page books and magazines or other interactive content. If you see using complimentary content on your travel agency website as being part of your overall strategy then you should plan on what downloadable or online structure that you will use. Many entrepreneurs will use Adobe Acrobat to create downloadable .pdfs, but there are many other choices each with their own unique value proposition. 

Reviews
Reviews are an excellent way to engage consumers who share their personal experiences with your visitors. However, your niche should be specialized enough to make your collection of reviews unique and something that doesn't compete with the large and established review sites such as yelp.com. Let's say you specialize in fishing trips to Mexico and want to have visitors post reviews on your site. Posting their fishing experiences by venue might be a great way to develop great content that is not available anywhere else on the web.
Unique Content
Publishing unique content on your website is cornerstone to getting search engines to notice you. Unique content is content developed by you, or someone you have hired and is one-of-a-kind. Let's say you specialize in selling a specific destination, activity or other niche, your content should be engaging to the reader and also be completely unique to your website alone. Search engines do not care for content that is duplicated anywhere else on the web.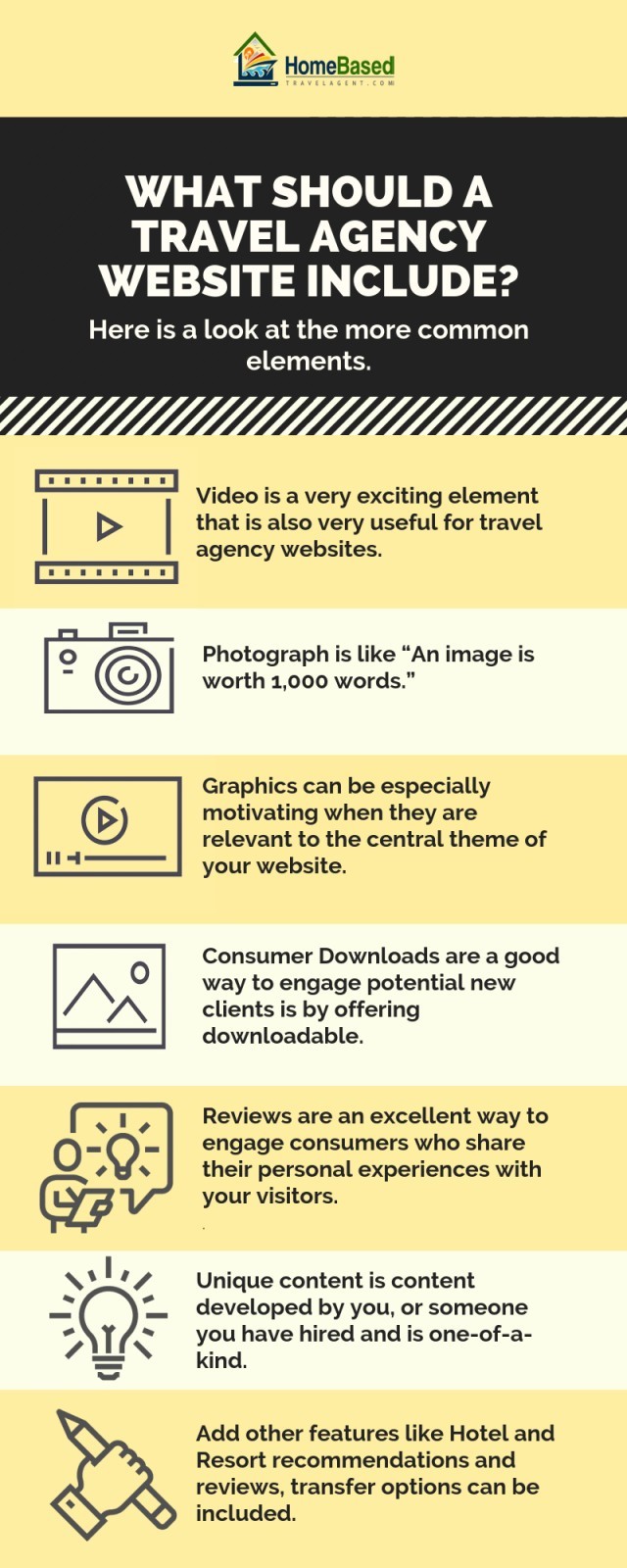 Other Features
There are any number of features that you may include on your travel agency website and might include, but not be limited to, Hotel and Resort recommendations and reviews, transfer options, sightseeing options, guides to museums, galleries, churches, restaurants, unique attractions, maps, on your own options and just about any travel related subject that you can think of. Remember that the function of the website should be focused on the outcome that you are seeking and every element and feature should be consistent with achieving that objective.
We have discussed the various types of travel agent websites, selecting the perfect domain name for your site and the various elements and features you may wish to reside in your travel agency website, so let's answer the question "What Can I Get a Travel Agency Website."