Starting a Travel Agency from your Home is a great choice for 2021 with an upcoming Travel boom!
Written By: Tom Ogg, Co-Owner – FindaHostTravelAgency.com 
2021 has presented one of the most robust opportunities for people that are considering entering the travel industry by starting a travel agency from home. The COVID-19 pandemic has changed so many ways people live and has ushered in so many new opportunities, it is difficult to imagine what the travel industry will look like when all of the travel restrictions are relaxed and the population gets back to normalcy. Here are 6 reasons why you should consider becoming a travel agent right now.
1. There is Pent-Up Demand for Travel
Not having traveled for over a year, the U.S. population is looking forward to being able to take a cruise, visit an all-inclusive resort, explore foreign countries, pursue their individual travel niche experiences and generally finally be able to go and do whatever they want without the fear of restrictions. This pent-up demand for travel will unleash an explosion of demand for qualified travel agents to handle their vacation planning in 2021 and beyond.
2. Travel Agents Performed During the Pandemic
During the pandemic's disastrous impact on travel, online travel agencies, travel suppliers and just about all of the available distribution channels failed their clients by not being able to respond to their needs in terms of obtaining refunds, re-accommodations or services of any kind. Consumers were simply left out to dry. Travel agents, on the other hand, were there battling on the client's behalf to obtain refunds for clients and myriad other services to assist clients  This reality has caused consumers to refocus their purchasing habits away from online discounters and booking direct with travel suppliers who almost universally issued "future travel credits" rather than refunds and then went bankrupt. Instead, consumers realized the incredible value that travel agents provide consumers when booking travel. This in itself will create a sea-change in the way consumers will transact their travel reservations in 2021 and beyond. The post-COVID-19 pandemic travel agents are the clear beneficiary of this series of events.
3. The Pandemic Led to a New Way of Conducting Business
While the travel industry led the way to home-based travel agents, the pandemic only solidified the consumer's acceptance of the idea that professionals working from home is a normal state of events. Many consumers made the switch from office to home-office and understood that there is absolutely no negative connotation to working from home as an entrepreneur and that in fact, it is now seen as a positive. Starting your home-based travel agency is one opportunity that shines in the post-COVID era.
4. There is a Shortage of Qualified Travel Agents in 2021
During the course of the pandemic many travel agencies and agents went out of business or left the travel industry. It is estimated that as many as 60% of the entire travel agency sales force left the industry for good. This fact means that while demand for travel agents is quite likely to sky-rocket, the supply is not going to be adequate to fill the demand. This is always a great time to get into a business, rather than when the demand is weak and there is an over supply. New agents can look forward to untold opportunity no matter what their pursuit in the travel industry is going to be.
5. It has Never Been Easier to Get Qualified as a Travel Agent
Technology has come so far in so many industries, but the travel industry has been the beneficiary of technology in so many ways. Becoming a travel agent online has never been easier and the agent industry is eager to have you join our ranks as travel suppliers are. The cruise lines, all-inclusive resorts, niche tour operators, destinations and other travel marketers need and want to train you how to become an expert selling their products and services. Even The Travel Institute, which certifies travel agents, has taken their new agent curriculums online.
6. Take Control of Your Future
By starting a travel agency from home in 2021 you are taking complete control of your future  You own your own business that does not require years of training or a major investment. There is no inventory to invest in and you can easily start on a part-time basis from your own home. There can be extensive tax and other benefits also associated with owning your own travel business.
As you can see, there has never been a better time to start a travel agency from home. You can look forward to a satisfying and rewarding career helping interesting and wonderful folks plan the vacations of their lifetime. No matter what specific niche that you intend to specialize in, opportunity in the travel industry has never been greater.

So How Do I Get Started in the Travel Industry?
While there are many channels available to become immersed in the travel industry, you should avoid getting involved with the myriad of "become an instant travel agent" scams that exist. Unfortunately, if you are searching terms like "become a travel agent" you are quite likely to run into these scams. They all have a common denominator and that is they want you to pay (usually under $500) and then they give you a "travel agent ID card." Of course, the card and the training they may offer are worthless.
Here are 8 ways to successfully engage a career in the travel industry.
1. Start With a Travel Concept
One of the most important elements to focus on is to understand what area of travel you would like to get into. Just being a travel agent handling everything for everyone is simply no longer a viable idea. In 2021 the need to specialize in a very specific niche is well established and developing a travel business concept is the very first thing that you should undertake. To help you start the process, here is a video tutorial on the topic.
2. How Much Money Can I Make Starting a Travel Agency From Home in 2021?
Understanding the reality of how travel agencies earn their money and how they get paid is critical information to know long before you get too involved in starting your travel agency from home. Having this information will help you decide which direction that you will want to pursue.
3. Develop Your Travel Niche
The best way to achieve your goals in the travel industry is by specializing in a specific travel niche. This could be by destination, cruising, river cruising, all-inclusive resorts, special needs travel and so many others. In fact, you probably already possess a level of expertise in a niche travel segment that would be perfectly logical for you to pursue. Here is a video tutorial on how to discover your travel niche.
4. Choosing Your Travel Business Structure
There are several ways to structure your travel business and much thought and advice should point the way to the one best for you and your situation. You should talk with your tax and legal advisors and seek their consultation. Elements that you should consider are control, liability, taxation and survivorship. Many people think that they can put off making this decision, but you are much better off doing the work it takes right out of the gate.
5. Establish Your Business Name and Business Bank Account(s)
Picking the right business name is so important and then establishing your name is critical for starting your travel agency in 2021. Once you have established your business name you will want to open your travel business bank account(s).
6. Comply With State Seller of Travel Laws and Licenses
At this stage of starting your travel agency from home you must be aware of what your state requires from you in order to operate your home based travel agency. Each state has different regulations and most states don't have any whatsoever. However, you must comply if your rates does have requirements to operate a travel agency. There is no federal requirements for operating a travel agency.
7. Create Your Travel Business Plan
Now is the time to create your first business plan. Forget fancy business plan development software (unless you are seeking investors) and simply create a simple, easy to use business plan that you can change as your business requires. Here is a video tutorial that will help you create your very first one.
8. The Benefits of Using a Host Agency
Most new travel entrepreneurs that start a travel agency from home make the decision to work with a host agency. There are many benefits derived from making this decision Here is a comprehensive video tutorial that lays out why you may want to make the decision to work with a host agency, as well.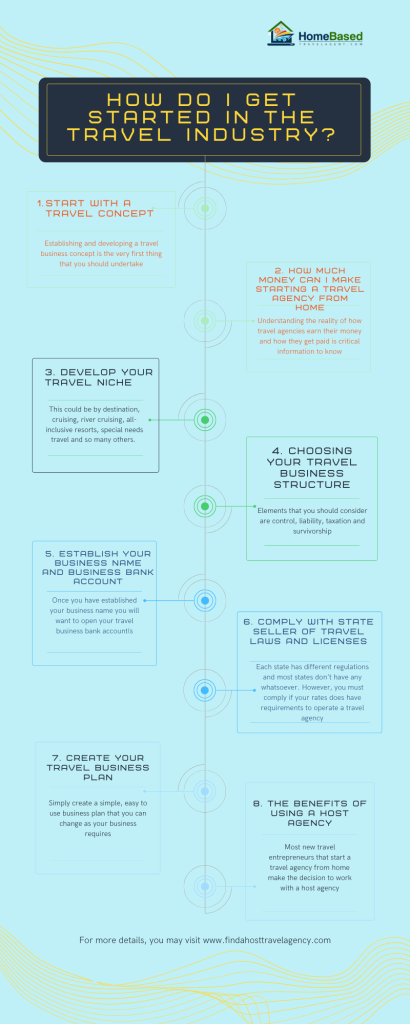 Where Do I Go From Here?
If you found these video tutorials helpful, why not take the entire "Start a Home Based Travel Business – Free Study Course?" It is completely free and will give you tons of information to help you on your way. Visit the Home Based Travel Agent Study Course Here.
If you have decided to work with a host agency, visit FindaHostTravelAgency.com and start your search there. With filters to focus on the exact benefits you want from a host agency, it makes find the perfect host easy.

Finally, if you are ready to take your knowledge and plans to the next level, order a copy of "How to Start a Home Based Travel Agency" and the accompanying "Workbook" These are considered the Bibles for starting a home based travel agency and are used by universities, colleges, travel schools, host agencies and The Travel Institute. Reading the book and completing the workbook will catapult you into a successful home based travel business.