6 Steps to Starting a Successful Travel Business in 2021
Written By: Joanie Ogg CTC, MCC, Founder and Co-Owner – HomeBasedTravelAgent.com 
There has never been a better time to enter the travel industry than right now. As travel comes back to life after the complete shut down during the COVID pandemic, there is a shortage of travel agents to help consumers who have strong pent up desires to start traveling again.
As destinations open up, cruise lines start sailing again, all-inclusive resorts start reopening, airlines increase capacity, the travel industry overall will need a robust travel agent distribution channel. You can cash in on this once in a lifetime opportunity to enter the industry and be met with open arms. However, understand that there are virtually no jobs as a travel agent, but business opportunities to start your own home-based travel business. Rather than being a salaried employee, you will be an independent contractor running your own business.
But like any business, the travel industry requires gregarious people with focus and motivation. You will need to be detail oriented and have business knowledge, or be willing to get the training on how to run a small business. You will also need to focus on a niche that will meet your expectations in terms of income and life style. But, all of these talents are easily learned within the travel business, as there are educational opportunities in abundance.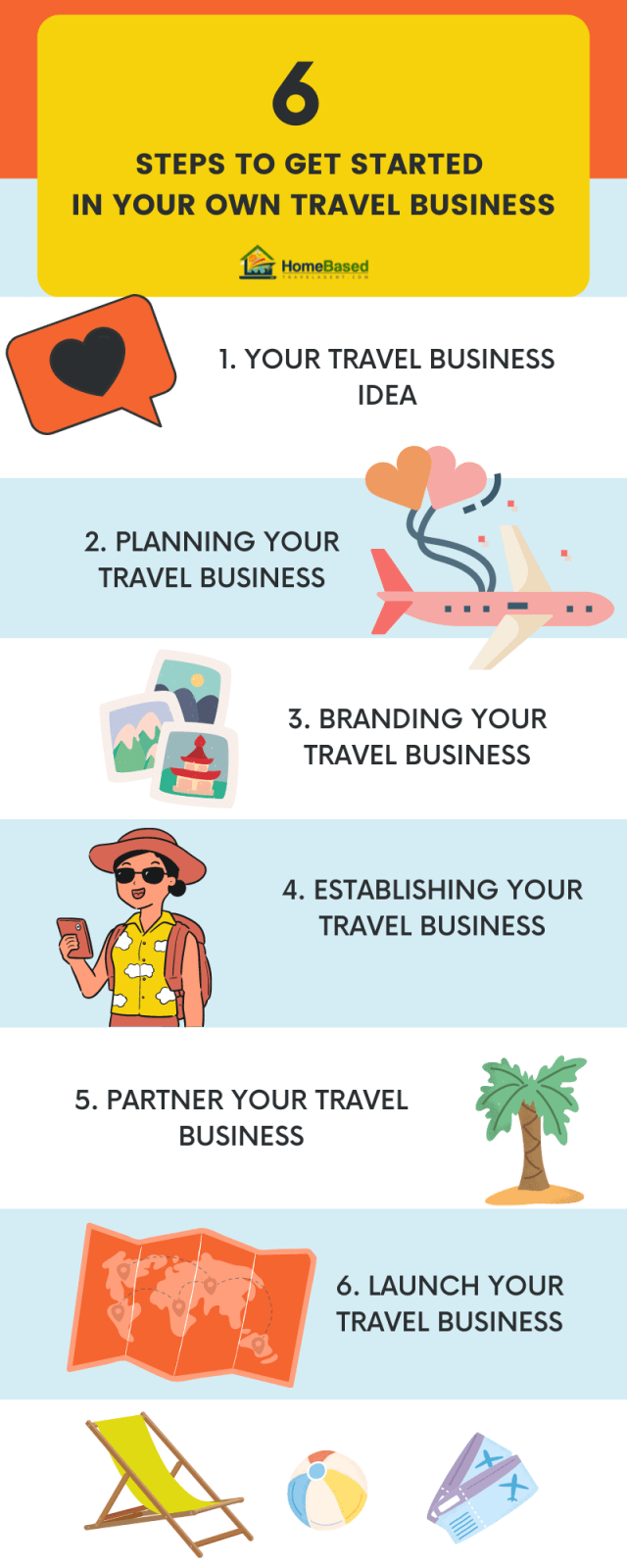 6 Steps to Get Started In Your Own Travel Business
Starting your own travel business is quite a bit easier than one would think. There is no federal or state licensing of travel agents and no test to take to qualify to be an agent. Some states do have "Seller of Travel" laws which you must comply with and there are certainly several laws that dictate how a small business must operate in your state. That said, here are the 6 Steps to Start Travel Business :
1. Your Travel Business Idea
The very first thing you must do is to create your business idea. Today's travel professionals tend to specialize in a specific niche that provides them with the opportunity to elevate their knowledge to an "expert" level. This allows them to process complex transactions quickly and to also maintain a high income based on the internal yields that complex transactions tend to generate. Many times an agent's business concept stems from hobbies, knowledge, personal experiences, special interest activities, sports and a myriad of other elements. Here is a video tutorial on how to establish your business concept.
Once you have established your travel business concept, you should now narrow your focus down to a specific niche. By doing so it will be much easier to establish what your ideal client would look like demographically and psychographically. This will make it so much easier when it comes time to build your marketing plan to reach a narrow focused target market. There is a process selecting your travel niche and here is a video tutorial on exactly how to discover your Travel niche.
2. Planning Your Travel Business
Now that you have discovered your specific travel niche, it is time to start working on your business and marketing plans. Having a business plan is essential when starting your travel business, as it will allow you to define your expectations and also establish a road map on where you are going and how you will get there. Creating a business plan sounds overwhelming for many people, but nothing could be further from the truth.  Think of your business plan as simply details about what you will do in your business. Since it is your plan only, don't worry about how it looks to anyone else. Since it will undoubtedly change as you progress with it, you are best to create it using pencil and paper or online. Here is a video tutorial on exactly how to create your first travel business plan.
Once you have the embryo of your business plan you can start working on your marketing plan. Again, it isn't necessary to have a huge marketing plan that will undoubtedly change numerous times as you start your travel business. Start simple and keep it simple so that you can change it at will once you discover what is working and what is not. A marketing plan simply details how you are going to market your travel business and how much you will budget for marketing. It can be created manually or done in a spreadsheet application, whichever is easier for you. Here is a video tutorial on exactly how to create your first marketing plan.
3. Branding Your Travel Business
Now that you know your niche and have created a simple business and marketing plan, it is time to start branding your travel business so that you can convey your UVP (Unique Value Proposition). The very first element necessary before starting the branding process is stating your UVP in no uncertain terms. Here is a video tutorial on how to craft your UVP.
One of the most important elements in your branding effort is your business name. Much consideration must go into getting the perfect business name for your niche. To help you along the way, here is a video tutorial on exactly how to acquire the perfect business name for your travel business.
Once you have secured your business name it is time to continue to brand your business. The branding process will consist of a multitude of elements that will all contribute to your overall brand. Your logo should shout your UVP, as should your website and blog, social media presence and offline materials. Here is a video tutorial on how to brand your travel business.
4. Establishing Your Travel Business
Deciding how to select the right business structure for your individual needs is something you should meet with your attorney and / or accountant about. There are many challenges that might affect which you choose. In order to help you see the various elements that you can consider, here is a video tutorial on things to consider when you talk with your legal and tax professionals.
There are some requirements that are necessary to establish a travel agency. The very first thing that needs to be accomplished is to register your business name and perfect your right to use it. Once the name is registered, you will want to open your business bank account(s). Here is a video tutorial on exactly how to register your business name and how to open your business bank account(s).
Many states have enacted "Seller of Travel" laws and you will need to comply with the requirements if your state does have such a law. You may also be required to obtain a local business license in order to operate a travel business. Here is a video tutorial on exactly how to comply with the laws.
5. Partner Your Travel Business
Most new travel agents choose to work with a host agency for a wide variety of reasons. The ease and cost of entry using a host agency is one of the more compelling benefits, as is the mentoring, business coaching and training they offer. They also offer knowledge and expertise along with strong preferred supplier relationships. Most host agencies offer state-of-the-art technology for all aspects of running a travel business. They also offer enticing commission levels and special pricing to keep you competitive. With hundreds of independent agents just like you, they also offer the opportunity to network with your peers and learn from them, as well. If you are considering working with a host agency, here is a video laying out the many benefits of doing so.
Finding the perfect host agency for your business will be so much easier once you have established your business and marketing plans since you will know exactly what products and services you will need from your host agency. You will also have an excellent idea about what suppliers and commission levels you will need to succeed and be able to sort through the host agencies to find just the right one. FindaHostTravelAgency.com is where you should start your search. Here is a video tutorial on exactly how to find the perfect host agency for your business.
6. Launch Your Travel Business
So now you are ready to launch your business. Launching your business simply means that you are opening your doors and reaching out to potential clients using any number of travel marketing channels that meets with your specific niche and objectives. These could be social media, press releases, digital marketing and so forth. From the very first contact with a potential new client you should start collecting their data in your CRM (Customer Relationship Management) software and add them to your email list. To help you work on how you will launch your new travel business, here is a video tutorial on travel professional marketing channels.
As you can see 6 steps to Start Travel Business or entering the travel industry is not a difficult task whatsoever and the industry is ready for you to become active to help serve clients with their travel plans.