There are Many Reasons to Partner with a Host Travel Agency – Let's Dive into why it may be Right for Your Travel Agency!
Written By: Tom Ogg, Founder and Co-Owner – HomeBasedTravelAgent.com
I wish I had a dollar for every time I have heard the question "Why do independent travel agents affiliate with host agencies?". I suspect that the question is asked simply because newer independent travel agents may not understand what host agencies offer to their affiliated travel agents. There are many very compelling reasons why independent travel agents affiliate with host agencies.
The host agency business model evolved during the late 1980s and early 1990s after the Airline Deregulation Act took full effect in 1981. The Act eliminated the need for a travel agent to conform with federal standards of having to maintain airline appointments (among a list of other things) and technology allowed suppliers to reach out to their travel agency partners without going through consortiums that dominated the industry at the time. Independent travel agents affiliated with host agencies who replaced consortiums as suppliers could not identify independent travel agents that were selling their products through a host agency simply the transactions were recorded in the host agency's ARC appointment number, rather than the individual travel agent's.
At first there was a lot of confusion about what a host agency was as many MLM types saw an opportunity to create travel agent ID cards and then sell them to consumers promising huge "travel agent discounts". Suppliers could not tell who was a real travel agent and who was simply looking for a discount. However, robust host agencies emerged with substantial revenues answering the question why independent travel agents affiliate with host agencies. So let's take a look at the reasons.
Why Independent Travel Agents Affiliate with Host Agencies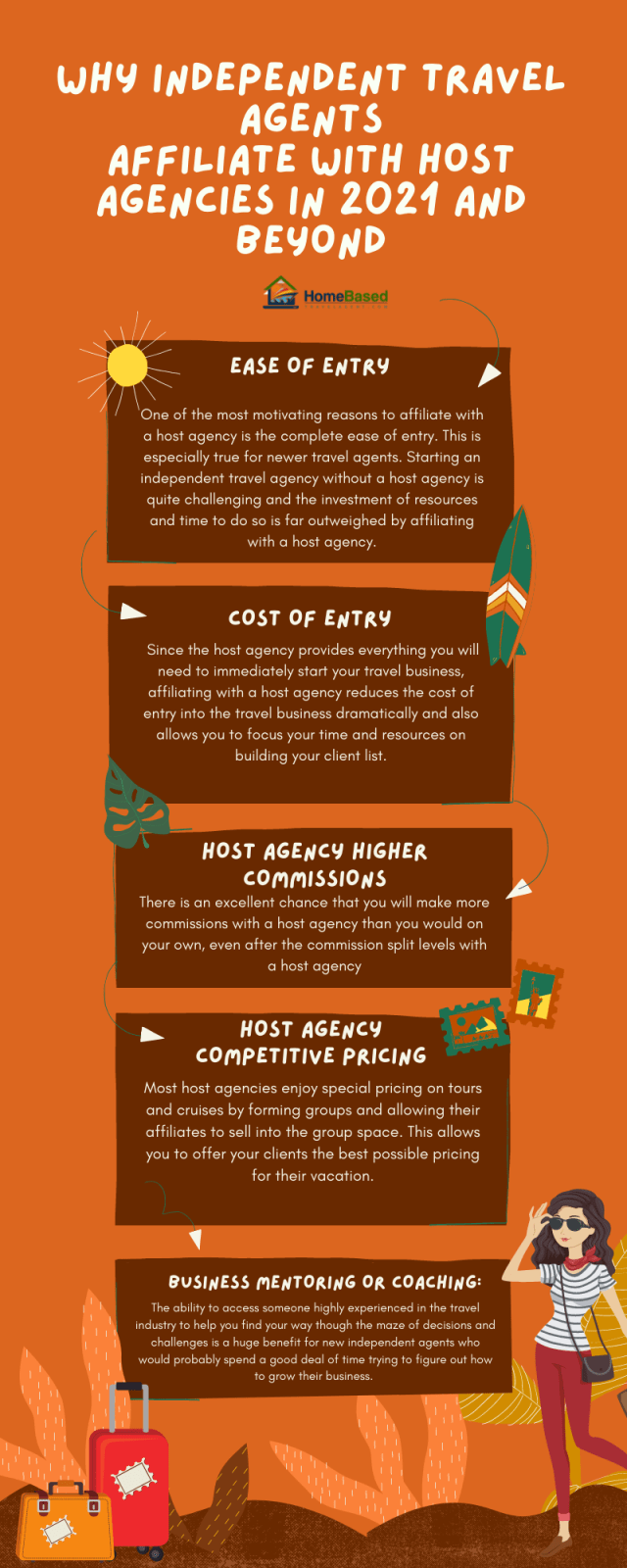 Ease of Entry
One of the most motivating reasons to affiliate with a host agency is the complete ease of entry. This is especially true for newer travel agents. Starting an independent travel agency without a host agency is quite challenging and the investment of resources and time to do so is far outweighed by affiliating with a host agency.
Cost of Entry
Since the host agency provides everything you will need to immediately start your travel business, affiliating with a host agency reduces the cost of entry into the travel business dramatically and also allows you to focus your time and resources on building your client list.
Host Agency Higher Commissions
Because host agencies aggregate revenues from many independent affiliates, they tend to earn higher commissions and overrides. There is an excellent chance that you will make more commissions with a host agency than you would on your own, even after the commission split levels with a host agency. When talking with host agencies they will share their commission levels that they are receiving which will make it easy to examine the differences.
Host Agency Competitive Pricing
Most host agencies enjoy special pricing on tours and cruises by forming groups and allowing their affiliates to sell into the group space. This allows you to offer your clients the best possible pricing for their vacation. Many host agencies have relationships with their preferred suppliers that enable them to be completely price competitive with all distribution channels.
Business Mentoring or Coaching
Many host agencies offer mentoring and or coaching for their agents. The ability to access someone highly experienced in the travel industry to help you find your way though the maze of decisions and challenges  is a huge benefit for new independent agents who would probably spend a good deal of time trying to figure out how to grow their business. This is a key element of why independent agents affiliate with host agencies.

Host Agency Back Office Support
Back office support is another key benefit of why independent travel agents affiliate with host agencies. The host will offer accounting, commission tracking and commission statements. Having a turn key back office system in place with the support of a host agency will save you tons of time and resources.
Host Agency Technology
Having sophisticated technology is another critical reason the independent travel agents affiliate with a host agency. Here are just some of the elements a host agency might provide.
CRM (Customer Relationship Management)Using a CRM to manage your relationships with your clients is critical to your success in 2021 and beyond and most host agencies have robust, and sometimes proprietary CRM applications that will interface with the host agency's marketing programs. Using your own stand-alone CRM will cost you both time and money.
Consumer Website: Many host agencies offer you a consumer website that is updated by the host agency frequently. They virtually always include an online booking engine for your clients that would like to book their transactions online. While your value proposition is in the personal service and knowledge that you offer, giving your clients a way to book commodity type transactions is an added bonus.
Booking Tools: Your host agency will also offer you the opportunity to use technology to book online. They may offer tools to book air, tours, hotels and resorts, cruises and other travel products that will streamline your operation.
Marketing Tools: Digital marketing tools are another strong reason the independent travel agents affiliate with host agencies. Email marketing, social media marketing, and other digital marketing tools unfold exceptional opportunities to grow your business.
Advertising Support: Most host agencies can help with your advertising needs. They may offer cooperative advertising opportunities with their preferred suppliers, which really allows you to take your advertising budget to a whole new level. Many offer a sophisticated graphics department to help design ads, flyers, brochures and social media memes, infographics and other digital content for your use.
Host Agency Education and Training
Education and training is why independent travel agents affiliate with host agencies. Many hosts have on-demand training webinars for all aspects of running a home-based travel business. Many work with The Travel Institute so that you may receive discounts and motivation to work on becoming certified by them. All host agencies will offer training from their preferred suppliers, usually in the form or webinars, teleconferencing, in-person training or in some other format. Training and education is one of the most dominant reasons that independent travel agents choose host agencies.
Peer to Peer Networking
Established host agencies also offer their independent contractors a social platform or bulletin board where they can communicate with their peers to discuss various business issues and opportunities. This ability to develop relationships with your peers is another excellent benefit of working with a host agency. Some host agencies have thousands of agents in their network and offer robust social media platforms for their network and may include thousands of topic searchable past discussions.
Host Agency Knowledge and Experience
Host agencies staff represent a wealth of knowledge and experience and can generally make what would be a major challenge if you were on your own, into a well thought out solution instead of a challenge.  Nothing is more important in your business and making sound decisions when given a complex challenge lifts you in your client's eyes. Selecting a host agency with a substantial level of knowledge in your particular niche will catapult you into success much quicker than trying to accomplish it yourself. This is an important element in your relationship with your host agency.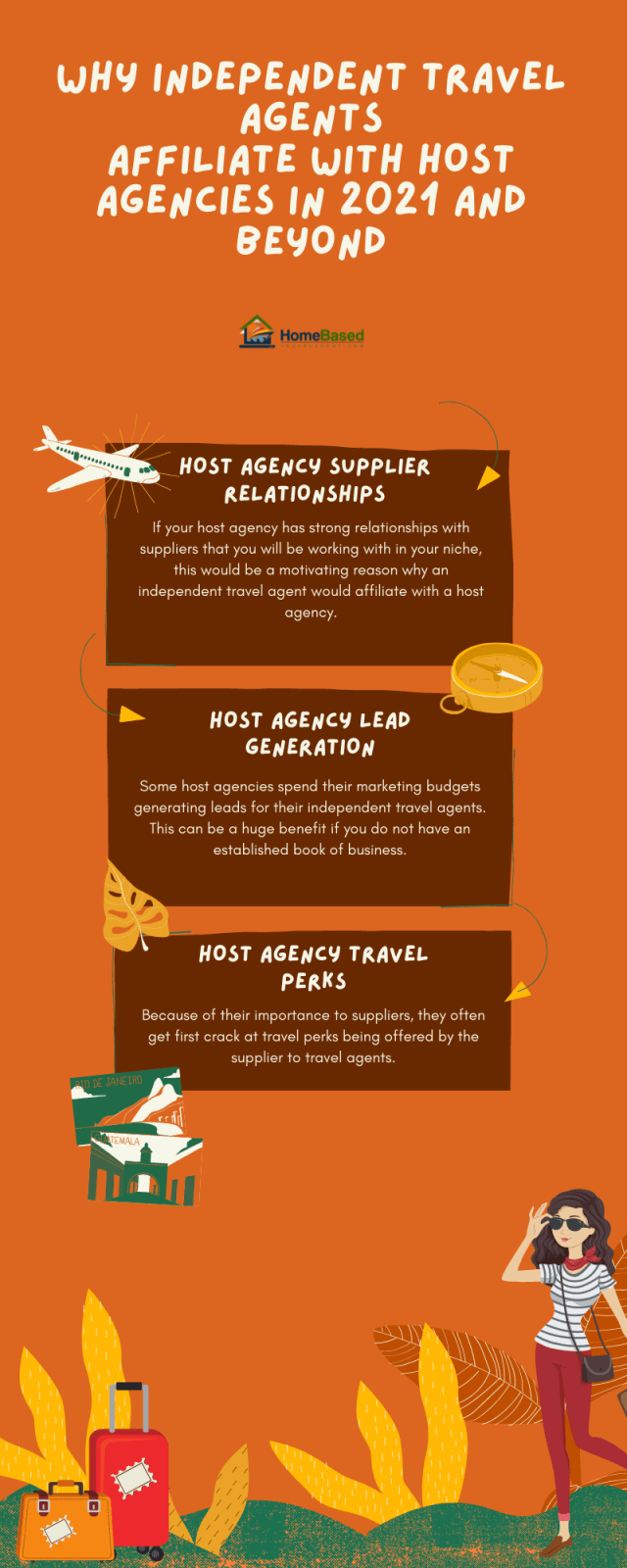 Host Agency Supplier Relationships
An established and successful host agency has strong relationships with suppliers. Given that the aggregated revenues from the host agency's network has important ramifications for the supplier, a host agency is much more likely to gain concessions where an individual independent agent might have difficulties simply because of a lack of revenue impact on the supplier. This was especially true during the COVID pandemic when many suppliers were having refund issues. If your host agency has strong relationships with suppliers that you will be working with in your niche, this would be a motivating reason why an independent travel agent would affiliate with a host agency.
Host Agency Lead Generation
Some host agencies spend their marketing budgets generating leads for their independent travel agents. This can be a huge benefit if you do not have an established book of business. With some host agencies it works this way. They run PPC campaigns and generate firm leads which are then forwarded to agents who have a high conversion rate (lead to sale) for the specific cruise line and itinerary or tour company. The more successful in terms of their conversion rate, the more leads the agent receives. All in all, this is an excellent situation for all involved.
Host Agency Travel Perks
Established host agencies are generally some of the top accounts for the suppliers that they sell. Because of their importance to suppliers, they often get first crack at travel perks being offered by the supplier to travel agents. Of course, the host agency will then give the perks to agents that are selling the supplier which makes working through a host agency advantageous for accessing travel perks.
As you can see, there are many reasons that independent travel agents affiliate with host agencies.