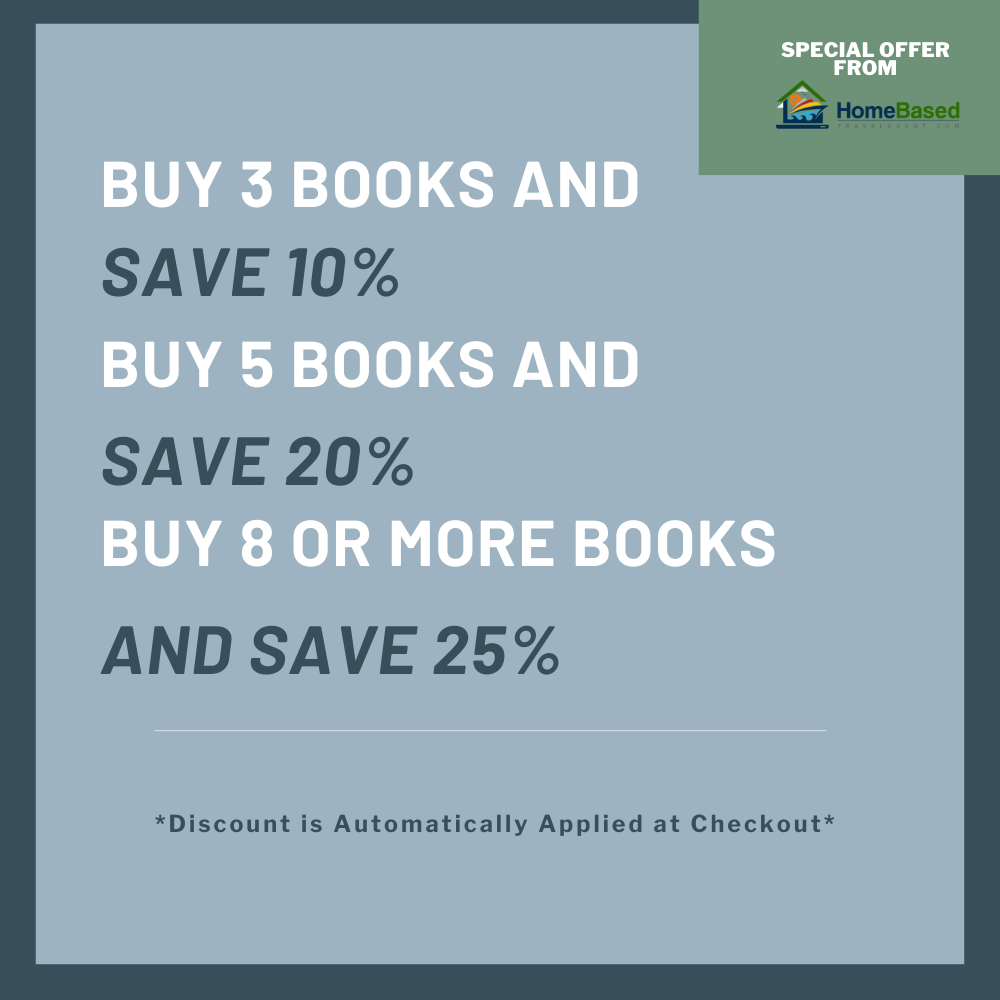 SellingCruisesHBTA600x225Slider
Digital Marketing in the Travel Industry Book Available at HomeBasedTravelAgent.com - 728 x 225
Welcome to HomeBasedTravelAgent.com
Are You Looking for Information About Starting a Home Based Travel Business? Be sure to view the articles and video tutorials on exactly how to do it. This is a FREE training course that will give you everything you need to know.
Home Based Travel Agent Books: Here are the books that started it all. If you are looking for detailed information on how to start a home based travel agency, this is the place to start.
Host Agencies: If you are looking for a host agency, this is the place to find one. Check out the list of approved host agencies.
Home Based Travel Agent Article Library: Looking for information about starting, operating, marketing and numerous other topics. Search the article library for answers.
Webinars On Demand For Home Based Travel Agents: Catch the latest webinars hosted by our family of brands. These webinars are on demand and can be enjoyed at anytime once they are completed.
Education and Training: Today's home based travel agent has an entire world of training at his or her fingertips. Here is how to access it.
Travel Business Scams: Learn how to avoid being scammed as you find your way into the travel business.
Frequently Asked Questions: Here are some answers to the most frequently asked questions.
About Us
This site was developed by Tom Ogg & Associates to give you information so that you can make good decisions while pursuing your goal of entering the travel industry, as a part-time or full-time home based travel agent. By investigating this site you will uncover tons of information other people want to charge you for. If, after exploring this site, you want to continue to pursue the idea, the next logical step is to buy one (or more) of our books. You will find answers to all of your questions (and those you haven't even thought of yet) and will be prepared to open your doors with a successful business.
Finally, we get a ton of people that e-mail me with questions and thanking me for giving away what other people are trying to sell them. In our 50 years in the travel industry, I have found that the more I give away, the more I receive. So take advantage of the information you will find in this site and don't spend a dime until you have thoroughly researched it. Once you have, you will be in a good position to decide if you want to proceed further into the travel industry or not. If you do, the next logical step would be to buy our books. I have made a very attractive offer on this complete package that you will find very motivating.
Best of Luck and enjoy your visit.
The Ogg Family



WebinarsHBTA600x225Slider