Work from Home and Find Success as a Travel Professional with These 5 Steps
Are you interested in becoming a Travel Agent? Would you like to work from home and have the ability for a flexible schedule? Do you love travel and all of the amazing things it can offer? 
Well, becoming a Travel Agent could be a great fit for you and your lifestyle! Becoming a Travel Agent in todays climate may be the best time to do so. With reports showing more and more demand for a Travel Professional, starting your home based Travel Agency could be the perfect career for you as you look forward. 
HomeBasedTravelAgent.com has enabled tens of thousands to start and run a successful Travel business. To better understand what it may take to get started, we are going to break down the process into 5 steps on How to Become a Travel Agent in 2019.
Step 1 – Get Your Education Handled
Becoming a Travel Agent does require some education and there are some great options to accomplish this. To decide what's best for you, let's look at the options:
Option 1: Obtain your Certification and Training on your Own

Obtaining your Travel Agent certifications is available through a multitude of avenues in todays travel market. The Travel Institute, a non-profit established in 1964, is the only organization dedicated to industry training for both new and experienced travel professionals. Widely recognized as the industry's education leader, The Travel Institute has certified more than 25,000 successful travel professionals and provided continuing education to countless others for more than 50 years.
Independent research in 2017 shows those certified by The Travel Institute make more and sell more than their peers. The Travel Institute builds confidence, increases productivity, enhances creativity and, ultimately, produces better business people throughout the travel industry.
The first level of certification is the Certified Travel Associate (CTA). Successful completion of the CTA™ curriculum requires in-depth proctored testing in a closed-book environment, a minimum 12-months' industry experience notarized, and fulfillment of 10 continuing education units per year for certification maintenance/professional development. The CTA designation signifies a commitment to upholding the highest standards in the role of trusted travel professional while providing those selling travel every day the skills and tools they need to achieve that next level of career success. 
The Travel Institute's CTA, along with its Certified Travel Counselor (CTC) and Certified Travel Industry Executive (CTIE) designations, are the industry's gold standard.
In addition to The Travel Institute offerings, there are several other training opportunities offered by Travel Associations like CLIA, ASTA, IATA and CCRA. Each Association does require a yearly fee and offers training events, conferences and a unique identification number that will be applied to you and your travel business for future reference in the travel industry. 
Another option is to utilize the tools of HomeBasedTravelAgent.com, including their How to Start a Home Based Travel Agency Video Tutorial Series and a selection of 9 books specifically written and catered to starting, running and growing a successful Travel Agency in 2019. 
Pros: Obtaining your own certifications and education as a Travel Agent lets you choose the right method for you. Whether your decision is price based, time based or simply convenience of the platform, you will not only gain the crucial education needed to find success as a Travel Agent, but also begin to make relationships in the Travel Industry to assist you as your Travel Agency gets started. 
Cons: With so many certification courses and options available, it can be a bit challenging to find the right fit for your needs, business and goals as a Travel Agent.  Some additional research and education may be needed prior to you making the decision that best fits your goals. 
Option 2: Join a Host Agency and Get your Education Through Their Programs
Host Agencies are very popular in today's industry and have expanded greatly in the past 10 years, not only in sheer options of Host Agencies but also in the programs of the Host Agencies. Joining a Host Travel Agency isn't difficult and offers a fantastic step into the Travel Industry with their supplier partners and offerings. 
Obtaining your certification and training through a Host Agency is a fantastic option if you choose to go this route. When searching for a Host Travel Agency, FindaHostTravelAgency.com is an valuable resource, as it allows for you to search for Host Agencies using an advanced filter system, thus narrowing the list of over 150 Host Travel Agencies to the ones that fit your needs in seconds. FindaHostTravelAgency.com is the only resource that offers this fantastic tool and has helped over 10,000 Travel Agents find and partner with the correct Host Agency that fits their needs, business and goals. 
If you choose to join a Host Travel Agency before obtaining your training and certifications, it's important to inquire with your Host Agency of interest if they offer new agent training as that is exactly what you'll be looking for and requiring when first starting up. 
Pros: Obtaining your training and certification as a Travel Agent through a Host Agency allows you to begin your relationship with your selected Host Agency from the start. This allows you to learn their systems, processes, software and workflow as you begin your new adventure as a Travel Agent. Not only will you become well educated in the Host Agency's offerings, preferred suppliers and programs, but you will also have a head start on the processes that are needed to sell, book and deliver travel documents to your clients. 
Cons: If you choose to obtain your education and certification through a Host Travel Agency, you will become well educated in that particular Host Agencies offerings and education but you may miss out on the additional opportunities that are abundant in the Travel Industry. For example, if a certain Host Agency specializes in cruise only travel, you may miss out on the benefits of land and tour travel in some aspect. If a Host Agency has a great corporate travel program, you may miss out on the opportunities of leisure, family and adventure travel. Although you may miss out on some of the offerings available in the Travel Industry if you choose to obtain your training certification through a Host Agency, the chances that your travel business will sell ALL of what the Travel industry has to offer is slim to none. As you will learn on your journey, specializing and finding your niche is key to your success as a Travel Agent. 
Step 2 – Create your Travel Agency
Now that you've decided what method you want to pursue in obtaining the necessary certifications and education, it's time to create your business. To do so, you'll need to consult your local state for the laws pertaining to any Seller of Travel licenses needed, as well as your particular states and or counties laws on operation of a Home Based business. 
There is a wealth of information available on setting up your Home Based Travel business but below you'll find 4-key factors that should not be overlooked. 
1. Secure a Business Name and Web Address
Check with your local state government on the requirements to create a FBN (Ficticious Business Name), as well as any legislations or local laws that pertain to working out of your home. Although you ideally won't have a lot of traffic at your home from your home based business, it is always best to ensure that everything is on the up and up with local and state laws and rules. 
In addition to the business name, find and purchase your domain name for your business. Aiming for a .com address is a great rule of thumb when setting up your web address and email accounts for your new Travel business. 
2. Purchase Necessary Technology
Technology has come such a long way in the past few years and was once a huge expense, but is quite reasonably priced now. Purchasing a top-of-the-line computer, whether desktop or laptop, is very affordable. Additionally, you should also plan on upgrading your smartphone to make the most out the mobile applications available to assist you in running your home based business. 
3. Create your Travel Business
Creating your business as an LLC, Sole Proprietorship, S-Corporation or Corporation are the most common forms when setting up your Travel business. For more information on this the book, "How to Start a Home Based Travel Agency – Study Guide" and the "How to Start a HomeBased Tavel Agency – Workbook" are fantastic assets and versatile tools to answer many of the questions you will undoubtedly have as you begin your new business venture. In addition to the "How to Start a Home Based Travel Agency – Study Guide" book, www.HomeBasedTravelAgent.com also offers tons of free information and instructional videos that will assist you in the process of creating your business. 
As you create your business accounts, remember to forward think your process and do your research before committing. For example, if you plan to possibly work with multiple partners in your Travel business, a Sole Proprietorship may not be the best fit as a business type. In that example, a S-Corporation or LLC may be beneficial for each partner and also for taxes to the Federal and State governments. Be sure to seek the opinion and advice of your local law professional to make sure you are selecting the right business environment for you.
4. Set up your Home Based Office
While it sounds easy enough, finding the right place for your home office may be a bit more challenging than one may think. In addition to the location, there are a lot of other factors that should be considered when constructing and creating your Home Based Travel Business. For some insight into this, please find some useful criteria, advice and tips in my series on Investing in your Home Office: Part 1, Investing in your Home Office: Part 2, and Investing in your Home Office: Part 3.
Your home office shouldn't just reflect your commitment to your success as a Travel Agent but provide you a functional and enjoyable place to work. With a small investment in your home office, you'll reap the benefits quickly by enjoying the place in which you work. 
Step 3 – Spread the Word and Get to Work
A friend of mine just became a Realtor here in Southern California and upon his new venture, his brokerage introduced him to the "Sphere of Influence." Now, I had not heard that term before the discussion but it is 100% relevant to you. 
The Sphere of Influence is a tool to build your first relationships or "book" of clients. Basically going through your contacts, emails, social connections and community connections and building a "book" of leads. By doing this, you are not only constructing your first database as a Travel Professional, but you are also building your connections to possible clients. With each contact, you should reach out to them via mail, email, text, or phone call informing them that you are now a Travel Agent and are available to assist them if they ever have the need.
Crafting your pitch of information and UVP is a must-do before you start reaching out and some great tips can be found in the Free Study Course provided by www.HomeBasedTravelAgent.com. In the Study Course, not only will you have the opportunity to cover topics similar to the above, but also the ability to dive into the next steps of your Travel Agencies success.
In addition to reaching out to those you know and are around you, it's time to market your new Travel Agency out to the world! There are a lot of ways to accomplish this and if you've partnered with a Host Travel Agency, I suggest to discuss the marketing opportunities that may be offered through your Host Agency partner.
If you are looking for some insights on the best ways to market and spread the word of your Travel Agency, books sold on www.HomeBasedTravelAgent.com such as "Marketing Mania for Travel Agents," "Selling Cruises: Don't Miss the Boat," "365 Marketing Strategies for Travel Agents," and "Selling Group Travel" can be extremely valuable as you begin your new career as a Travel agent 
Step 4 – Continue your Education
Becoming a Travel Agent in 2019 is a fantastic career choice for anyone looking to find success in a fun, upbeat and awesome industry. Once you have completed your certifications, set up your business, set up your home office and began marketing your new business, the next step is to keep informed. There are wealths of opportunities to continue your education and better your business as it grows and gains traction. 
TravelProfessionalNEWS.com delivers a free Digital Magazine to your inbox each month and offers a great deal of articles, tips, and advice to not only increase your sales but also increase your effectiveness as a Travel Agent. The Digital Magazine is very enjoyable to read with its minimalistic design and allows for you to enjoy the latest issue on any device you find convenient. To subscribe to Travel Professional NEWS, visit www.TravelProfessionalNEWS.com and sign up for the free monthly Travel publication. 
In addition to the Digital Magazine, Webinars are a great way to engage with suppliers and Host Agencies for fantastic information and useful tools to take your Travel Agency to the next levels of success. Webinars are always free to Travel Agents and often include a possible prize provided by the hosts. If you are interested in attending any of the future Webinars offered by Travel Professional NEWS, you can view them and register for them at: https://www.travelprofessionalnews.com/webinars/ 
Step 5 – Get Involved
While continuing your education is crucial to your success as a Travel Agent, collaboration is also an important part of continuing your growth as a Travel Professional. While working from your home can be absolutely amazing, it can also be a bit challenging. With no co-workers, talking with yourself may become a new "normal" as it has for me. 
Not to worry as www.TravelProfessionalCommunity.com is your home for being a Home Based Travel Agent. The free community consists of well over 15,000 Travel Professionals from around the globe and the main difference between TravelProfessionalCommunity.com and other online communities is that they do not allow any suppliers, tour operators, host agencies or vendors to partake in the discussions within the private community. By doing so, unbiased and truthful communication occurs and empowers members of the community to collaborate, learn and interact freely. 
Joining the largest online community of Travel Professionals is easy once your Travel Agency is up and running and is a must-do for all Travel Agents looking to collaborate with other like minded individuals. If you are looking for advice, help, recommendations or just want to have some "water cooler" talk with others in your field, www.TravelProfessionalCommunity.com is the place for you.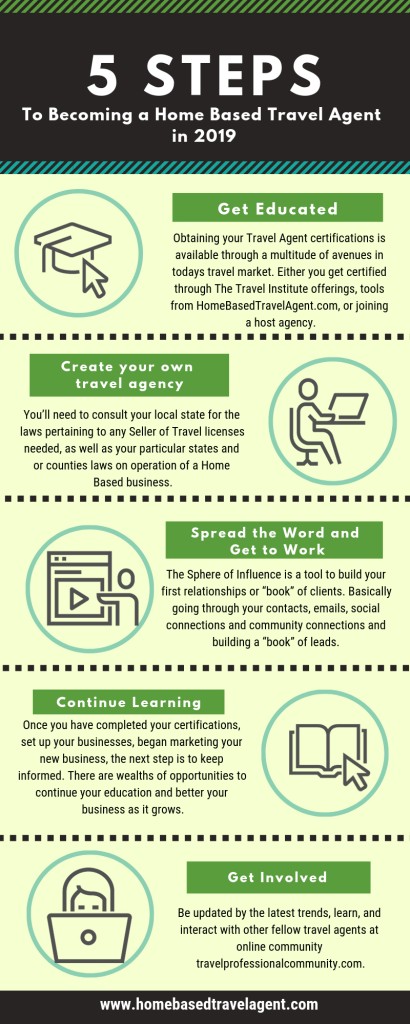 Become a Travel Professional Today
Now that you've got some insight into the steps needed to become a Travel Professional in 2019, take advantage of the free assets included in this article and dive in to one of the best industries in the world. It's fun, it's happy and what a better thing to sell than someones vacation! We wish you the best of luck on your future Travel Professional Career and hope that you find success and happiness!