Is "Going it Alone" the right choice for your Travel Business? Host Travel Agencies offer a lot of options to their partners but how do you know what's right for you?
Written By: Tom Ogg, Founder and Co-Owner – HomeBasedTravelAgent.com
While the vast majority of new travel agents will opt to work with a host agency, there are circumstances where an agent might elect to go completely independent of a host agency and start their own travel business. This would be as viable option if your business plan is to specialize in a very specific market with just a limited number of suppliers or, if you are going to market recurring itineraries on a repetitive basis. Examples of these ideas would be if you are going to sell surf trips to Namibia, Africa focused on Desert Point or, if you plan on running cow tuna fishing trips to the Tres Marias Islands off of Nayarit, Mexico.
Another plan would be if you were going to sell corporate travel and get into airline ticketing using service fees. Agents specializing in selling business travel were doing great up until the COVID pandemic hit, but there are signs that it will come back as the pandemic is slowing down. There are a lot of benefits of having an ARC Appointment which plugs you into the entire gamut of travel suppliers out there. Once again, if you decide to go in this direction realize that there are costs involved, as well as potential liability.
The concept of being a generalized agent serving a normal clientele independent of a host agency, while once a popular idea, has given way to the operational and economic reality of working through a substantial host agency. The route you choose requires careful deliberation on your part. Your knowledge level and experience in the travel industry is a critical factor. So, let's take a look at the various ways that you can establish your travel business without aligning your self with a host travel agency and you should understand the benefits of both working with a host, and going independent.
Travel Agent Identification Number Systems
At one time, an agency's ARC (or IATA) number was used for identifying a travel agent's ability to claim commissions. Of course, any supplier could elect to pay commissions to a non-ARC appointed travel agency, as the airline appointment from ARC didn't actually matter to anyone, other than the airlines that issued the appointment. The Agency Reporting Agreement that is executed when an ARC appointment is consummated between the ARC member carriers and the travel agent is the document that establishes the agency relationship.
Suppliers, other than the ARC member carriers, have accepted an ARC number as a sign that a travel agent is, in fact, a travel agent. However, no agency relationship was created by the ARC appointment, other than with the ARC member air carriers. Suppliers could, in fact, appoint anyone as an agent by assigning their own number or by accepting some other criteria or designation agreed upon by the agent and supplier, which would create the agency relationship between the two parties.
Since the travel industry's economic transformation there are fewer and fewer ARC appointed travel agencies. Many entities have stepped in to develop a numbering system for travel agents to replace the ARC appointment system. While late to join in on the evolution, even ARC has developed a program for non-traditional ARC appointed agents to join their numbering system. Known as the "VTC" program, ARC's numbering system has entered the fray as a viable alternative.
One of the main concerns of the travel agent community is having a supplier-owned organization determine who is (and who is not) a travel agent, rather than the agency community. The process had to have standards, so that suppliers could accept those who qualified as actual agents. Ever since the "card mill" explosion of the 1990s, just about anyone could print up an ID card (with a number on it) and claim to be a travel agent and they did.
To make matters even more confusing, many states have adopted seller of travel laws that require travel agents to register within the state by posting a bond, and/or paying a registration fee and/or joining a consumer restitution fund. These laws have been of some benefit to travel agents, as they raised the barrier from an investment perspective, discouraging those looking simply to pretend to be travel agents in order to garner perks from suppliers. The plain truth is, in most states, anyone can print up a business card and claim to be a travel agent.
There are really only a few credible travel agency numbering systems that suppliers recognize as legitimate, and following is a breakdown of the various programs: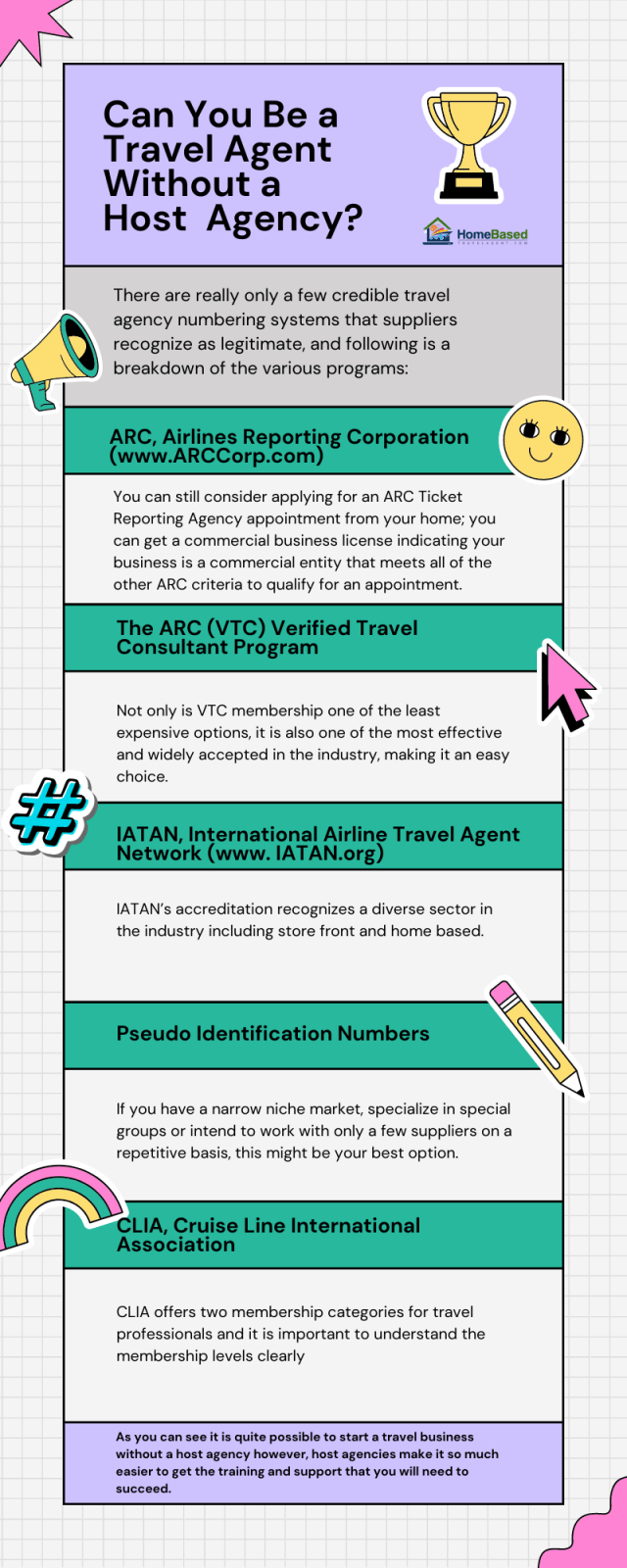 ARC, Airlines Reporting Corporation (www.ARCCorp.com)
You can still consider applying for an ARC Ticket Reporting Agency appointment from your home; as long as you can get a commercial business license indicating your business is a commercial entity that meets all of the other ARC criteria to qualify for an appointment. You may visit the Airlines Reporting Corporation website at  ( https://www2.arccorp.com/products-participation/travel-agencies/agency-participation/ )
The ARC (VTC) Verified Travel Consultant Program
The VTC program is designed for those agencies that ticket through alternative methods such as using a host agency or consolidator to accomplish the task. In late 2007, ARC introduced its VTC (Verified Travel Consultant) program. The VTC program is tailored specifically for independent agencies who want to be recognized in the travel industry, but do not issue airline tickets and other accountable documents. In addition to the standard 8-digit ARC number, travel professionals are equipped with a host of innovative products and services to support their success.
Not only is VTC membership one of the least expensive options, it is also one of the most effective and widely accepted in the industry, making it an easy choice. Maintaining VTC status is also fairly simple: Agencies are required to follow the VTC agreement and satisfy the affordable annual fee. Check out becoming a VTC at this link ( https://www2.arccorp.com/products-participation/travel-agencies/become-an-arc-verified-travel-consultant/ )
IATAN, International Airline Travel Agent Network (www. IATAN.org)
IATAN was the original organization to issue travel agent ID cards. The IATAN ID card was the standard for a number of years. As the industry continues to change, so do all the various types of accreditation. IATAN's accreditation recognizes a diverse sector in the industry including store front and home based. Once accredited, you are assigned a unique and individual IATA numeric code and you then gain access to all IATAN programs such as Personal Registration, IATA/IATAN ID Card, Agent Experience and a Listing in CheckACode and other universally purchased products.
The non-ticketing accreditation that IATAN used to offer was known as the TSI (Travel Sales Intermediary). While TSI is still a recognized program they have put all who meet their requirements into a combined accreditation for entity types. An entity is defined as a business (proprietorship, partnership, or corporation) that is engaged in the sale and/or brokerage of travel and travel related services such as cruises, tours, hotels, car rental, bus and rail transportation and meeting planning. Non-ticketing entities range from individual home-based business to large corporation and do not hold airline agency appointments or issue airline tickets or other such accountable documents.
The key requirements are proof of legal form of business, proof of commitment to travel business sales, fiduciary responsibility, ethical responsibility, qualified staff (as applicable), proof of state and local licensing and an Errors and Omission Insurance policy. The E & O may  be waived if specific requirements are met. You can review all of this information at www.IATAN.org as well as the fees association with accreditation.
Pseudo Identification Numbers
As discussed, any supplier can elect to create an agency relationship with anyone they choose. The vast majority of industry suppliers will issue you a "pseudo ARC number", so that, when you call the supplier, they can find you in the computer. If you have a narrow niche market, specialize in special groups or intend to work with only a few suppliers on a repetitive basis, this might be your best option. The way you "open an account" with a supplier is to approach their sales department with a request to establish an agency relationship and obtain an ID number that you would use when making reservations.
This alternative costs you nothing and is very effective when dealing with a narrow list of suppliers. Be aware though that the supplier will expect you to be both knowledgeable and professional in your approach. You should have a marketing plan and specific objectives that are both understandable and relevant to the supplier. Pseudo ID numbers could be your telephone or Social Security number, some other meaningful number or simply a number that you or the supplier create to serve the purpose. Usually, these numbers will have 8 digits to match the length of the field in the supplier's computer system designed to accommodate the numbering system that they use
CLIA, Cruise Line International Association
CLIA offers two membership categories for travel professionals and it is important to understand the membership levels clearly. The CLIA Travel Agency Membership provides you with a CLIA Industry ID Number which is used to book directly with the CLIA Cruise Line Members and other Executive Partners. CLIA's Individual Agent Membership is designed for agents working through a host agency. For the purposes of booking travel directly with the vendors and receiving commissions in full and not acting as a hosted agent through a host agency, the agency membership category is the choice to that end. To check out CLIA visit Cruising.org.
Other Travel Agent ID Numbers
After deregulation, ARC was quite slow to come up with a solution for non-air ticketing travel agencies so IATA, who is in charge of issuing travel agent ID numbers started selling numbers to the various niche associations that had popped up during the chaos. ASTA / NACTA had "TravelSellers.com" and OSSN had TRUE. Once the ARC's VTC program was introduced TravelSellers.com was shut down. OSSN ended up selling to CCRA who then merged with another company.
As you can see it is quite possible to start a travel business without a host agency however, host agencies make it so much easier to get the training and support that you will need to succeed that it just makes sense to go in that direction unless you are fully established in a niche market and do not need the training and support.