Being a Travel Professional isn't always easy… Here are Some Things that the Home Based Travel Agent needs to take notice of.
Written By: Joanie Ogg, CTC, MCC – Co-Owner – HomeBasedTravelAgent.com 
If someone at the end of 2019 would have predicted that all of the world's cruise lines would have completely shut down operations in early 2020 the industry would have never believed it. But, it happened. Or, if someone predicted that commercial air travel would grind to a halt, the same response would have occurred. The reality of the travel industry is that it is quite cyclical and very sensitive to a number of global events.
Over the years in my tenure in the travel industry (1973 to present) there have been every kind of disruption you can think of such as hyper inflation, wars, terrorist attacks, bankruptcies, major distribution model transitions and so much more. And, with every crisis there have been opportunities and financial interruptions. But, the impact of the COVID pandemic has set a new standard on the impact of challenges facing the Travel Agencies in 2022.
One of the benefits of having been active in the Travel Agencies in 2022 since 1973 is that I have been through just about everything one can imagine might affect travel agents. So, with looking into the future of the travel industry there are certainly challenges ahead that have been spawned by a good number of events and it is best to try to understand what their impact might be and also how to turn them into positives for your business. With that said, here are 16 very likely challenges that Travel Agencies in 2022 should be aware of.
16 Top Challenges Facing Travel Agencies in 2022 and Beyond Inflation
The current evolution of inflation in the U.S. economy will have a horrible effect on the travel and tourism sector of the travel industry. During the inflationary and stagflationary periods of the 1970s, 80s and 90s price increases on all aspects of leisure and business travel were in chaos. Labor disputes and strikes for more pay affected all aspects of travel. The worst period was in the late 1970s and early 1980s when the country was in a recession, the oil shortage and inflation disrupted the travel industry in a way that led to numerous bankruptcies and financial failures.  Travel agents must negotiate the inflationary period carefully to avoid having conflict with clients who will see pricing increases to offset the impact of inflation.
16 Top Challenges Facing Travel Agencies in 2022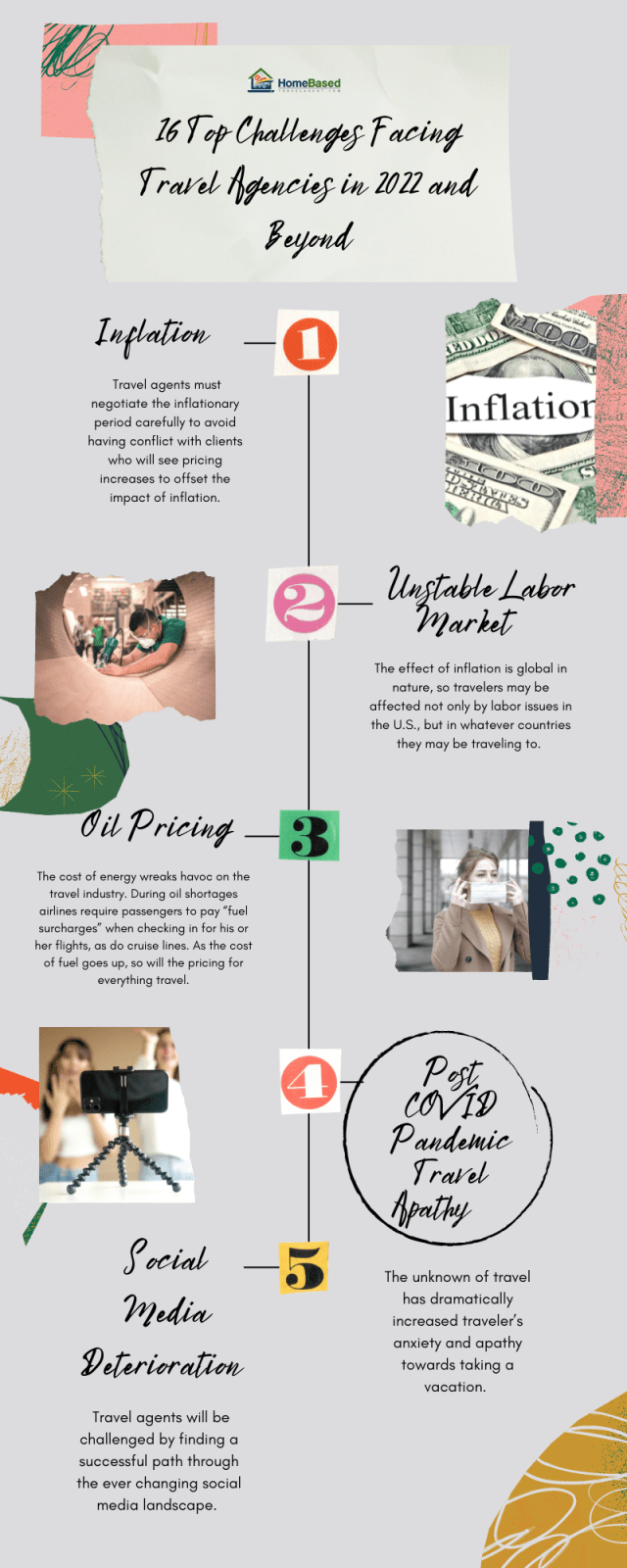 Unstable Labor Market
As mentioned, inflation did cause unions and other labor groups to strike as a way to obtain higher wages to offset the wage loss caused by inflation. This led to an ongoing scenario where it seemed that one group was striking every day and that created havoc for travelers. And, the effect of inflation is global in nature, so travelers may be affected not only by labor issues in the U.S., but in whatever countries they may be traveling to. This impact makes the use of a travel agent so much more important for consumers, as the travel agent can generally pick up the pieces if an element of travel on a client's vacation is interrupted by labor issues.
Oil Pricing
The cost of energy wreaks havoc on the travel industry. During oil shortages airlines require passengers to pay "fuel surcharges" when checking in for his or her flights, as do cruise lines. As the cost of fuel goes up, so will the pricing for everything travel. Travel agents must prepare clients for the eventual price increases on travel elements that are dependent on oil products.  The cost of fuel is roughly 10.7% of a cruise line's revenue. For airlines it is roughly 20 to 30%   
Post-COVID Pandemic Travel Apathy
It is no secret that many travelers have anxiety when considering taking a flight, cruise or other travel related event. And, the COVID pandemic has only made the anxiety that much worse for more people who have spent at least a year not traveling at all. The widespread televised exposure of cruise ships that were not allowed to visit ports and were eventually turned away from docking at all because of having a COVID outbreak onboard is etched on many travelers minds. The unknown of travel has dramatically increased traveler's anxiety and apathy towards taking a vacation. This is likely going to be what embeds travel agents with suppliers, as agents will be able to calm fears with solid facts and experience.
Social Media Deterioration
As TikTok continues its aggressive growth at the cost of competing social media platforms such as Facebook, YouTube, Instagram and Twitter, it is also featuring content that is "dumbing down" its users. Chinese owned TikTok is the favored social platform for most Asian countries which also affects the overall content positioning. Travel agents that use social media as their primary marketing tool may be looking at ongoing decay in the results that they are receiving. Facebook and Twitter have continuing erosion in their user base and continuing decline in the advertising results they produce. Travel agencies in 2022 will be challenged by finding a successful path through the ever changing social media landscape.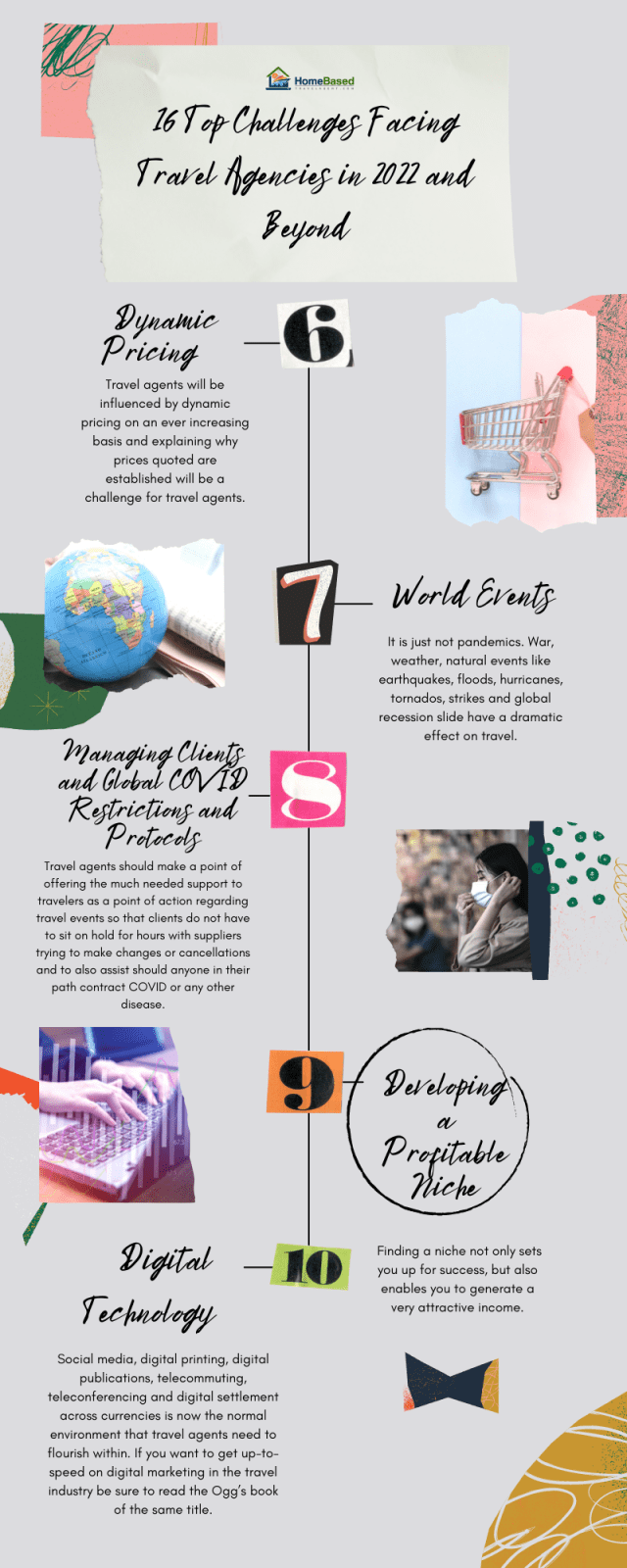 Dynamic Pricing
Dynamic pricing has been a buzz term for years in the travel industry and with the advent of AI is becoming more of a reality than ever before. In a nutshell, dynamic pricing uses 2 elements to establish a price for a quotation. First it looks at traditional criteria such as availability, load factors and overall demand for the product. This is why you can get a different fare every time you query an airfare from an airline. The second element is the traveler him or her self. The dynamic pricing will engage the traveler's past travels to establish a fare that is compatible with their likes and dislikes when traveling. Travel agents will be influenced by dynamic pricing on an ever increasing basis and explaining why prices quoted are established will be a challenge for travel agents.
World Events
Nothing affects travel more than world events. Pandemics like we just experienced, saw the cruise industry completely cease operations, countries would not allow tourists to enter and restrictive protocols were mandated industry wide. But, it is just not pandemics. War, weather, natural events like earthquakes, floods, hurricanes, tornados,  strikes and global recession slide have a dramatic effect on travel. It is very difficult to guess what the next disaster will be that will impact travel, but it is a sure bet that there will be one. Travel agents must prepare for these situations and not be caught without a plan.
Managing Clients and Global COVID Restrictions and Protocols
As the pandemic slowly fades from its impact on travel and the world reopens, it will be very important for travel agents to provide up-to-date knowledge of their niche's COVID requirements and protocols.. Consumers will absolutely want to work with a travel agent that can act as an intermediary between the client and the supplier. Travel agents should make a point of offering the much needed support to travelers as a point of action regarding travel events so that clients do not have to sit on hold for hours with suppliers trying to make changes or cancellations and to also assist should anyone in their path contract COVID or any other disease. Travelers have realized the major importance of travel agents during the pandemic.
Developing a Profitable Niche
More than ever, the COVID pandemic has taught the value of specializing in a profitable niche. The pandemic also taught consumers the true value of using a travel agent. Consumers trying to change or cancel reservations made directly with the airlines, hotels and resorts and other travel suppliers were on hold for hours and often could not connect only to see his or her investment disappear with no fault of their own. Finding a niche not only sets you up for success, but also enables you to generate a very attractive income.
Digital Technology
If you have not embraced the full range of digital marketing opportunities, now is the time to get involved to increase your reach and influence. The pandemic accelerated the move from print, person-to-person and traditional media into a much more digital world. Social media, digital printing, digital publications, telecommuting, teleconferencing and digital settlement across currencies is now the normal environment that travel agents need to flourish within. If you want to get up-to-speed on digital marketing in the travel industry be sure to read the Ogg's book of the same title.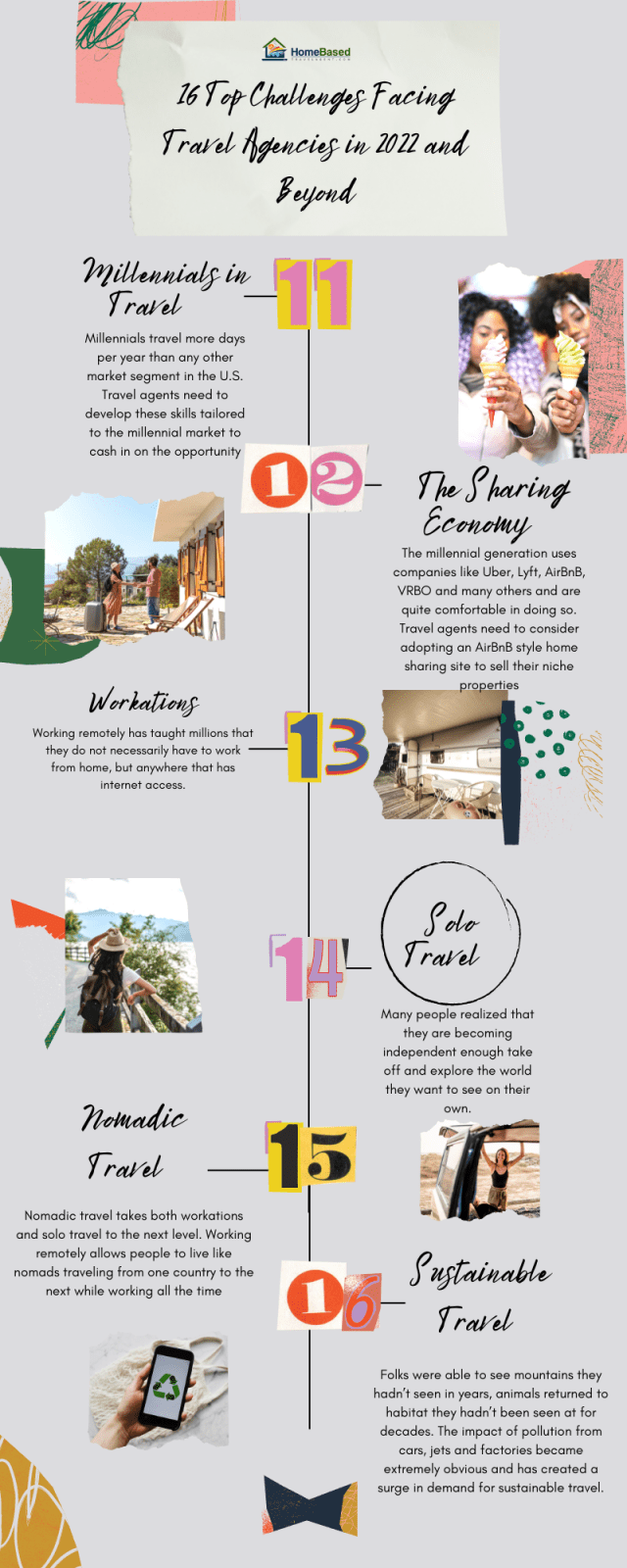 Millennials in Travel
With over half of the millennial generation earning almost $75,000 and up (2020) per year and becoming the largest generation within the United States with 71.1 million members, or 22% go the entire U.S. population, the millennial travel market is quickly becoming the most important. Millennials travel more days per year than any other market segment in the U.S. including the baby boomer generation that is in retirement or soon to be retired. Marketing to millennials involves smart phone, social media and video marketing. Travel agents need to develop these skills tailored to the millennial market to cash in on the opportunity.
The Sharing Economy
While the sharing economy didn't even exist as little as a decade ago, the sharing economy is rapidly becoming extremely important to travel agents. The millennial generation uses companies like Uber, Lyft, AirBnB, VRBO and many others and are quite comfortable in doing so. Travel agents need to consider adopting an AirBnB style home sharing site to sell their niche properties. As an example, Let's say you specialize in selling Hawaii, why not go after folks that own rental properties with a long-tail keyword home sharing site to focus on a specialty market within Hawaii. There are several AirBnB clones out there and there is even open source clones to boot. Here is just one example homestaydnn.com.
Recent Trends in Travel
The pandemic has created several completely new trends in travel preferences. The tens of millions of people that went from working in the office to working remotely has created a sea change in where people live and how they want to travel. Here are four of them.
Workations
Working remotely has taught millions that they do not necessarily have to work from home, but anywhere that has internet access. Families can now travel far more than before because while the family relaxes at the beach or whatever, the worker can complete their work remotely.
Solo Travel
Once there was a stigma on women traveling alone, but that is certainly not the case any longer. Many cruise lines are building single cabins, or have offered excellent single supplement charges, as have just about every other travel supplier out there. Look for solo travel to expand as COVID eases around the world  Tens of millions of people realized that they may not need the support of traveling with someone else are becoming independent enough take off and explore the world they want to see on their own.
Nomadic Travel
Nomadic travel takes both workations and solo travel to the next level. Working remotely allows people to live like nomads traveling from one country to the next while working all the time. Generally, they will visit a country for a month or more, and then relocate to the next country for additional months and just keep traveling from there.
Sustainable Travel
One of the benefits the pandemic provided was the impact of normal life became apparent as pollution eased. Folks were able to see mountains they hadn't seen in years, animals returned to habitat they hadn't been seen at for decades. The impact of pollution from cars, jets and factories became extremely obvious and has created a surge in demand for sustainable travel. Look for millennials to be more interested in visiting a farm and working it rather than taking a cruise, as an example.
As you can see the COVID pandemic has has a significant impact on the travel industry and it will be interesting to see how it all unfolds as we move out of the pandemic.