How do you Find the RIGHT Host Agency Partner for Your Travel Business? Let's Dive into the Reasons, Offerings and Important Things to Consider when Choosing a Host Travel Agency Partner
Written By: Tom Ogg – Co-Owner – HomeBasedTravelAgent.com
Host travel agencies have been around for a good number of years and have served hundreds of thousands of independent travel agents. The model was created as suppliers decided that the consortia model simply wasn't working for them and reduced their support. At the time, suppliers were able to track every consortium agent's specific revenue. They didn't mind paying extra commissions to agents that were highly productive, but it irked them to pay higher commissions to agents that were not supporting them simply because they belonged to a consortium.
Host agencies sprang up from this series of events because each individual agency's productivity was hidden behind the host agency's ARC number, so all the suppliers could see was the total productivity of the host travel agency. Because of this, the host agency model boomed while consortia were either consolidated through acquisition or they simply closed their doors. It was truly an interesting time in travel distribution. As airline commissions dwindled only to disappear in their entirety, this reality drove travel agents to forego their store fronts and relocate to a home-base in droves.
Without their storefront, CRS and airline appointments these home-based travel agents needed air ticketing services and access to the important ARC number to continue booking their clients. Hence, the host agency model came into favor. Independent travel agents could align themselves with a host agency who provided all of the benefits, support and services that consortia once did and gain not only the support services they needed, but higher commission to boot.
Why Host Agencies are so Important in 2022
Host agencies gained favor with independent travel agents because they resolved the conflict of maintaining an ARC appointment in order to book clients and earn a commission. They also were established and credible in the industry because of their productivity and overall industry presence. Before host agencies, agents would join consortia to reap the support and benefits that they offered, but these continued to dwindle as technology enabled suppliers to have a clear vision of each agents productivity. Plus, the consortia, while offering sophisticated marketing programs, did not offer solutions for non-ARC appointed independent travel agents.
Maintaining an ARC appointment at the time required numerous elements to qualify and the cost of doing so was prohibitive for the vast majority of agents that wanted to sell travel. By the time one added up the cost of maintaining an ARC appointment, CLIA membership, IATAN accreditation and a corporate presence, host agencies were the way to go. In fact, host agencies enabled the growth of independent travel agents who without them would have gone out of business.
Host agencies blossomed in the 1990s and today represent sophisticated support opportunities for those wishing to enter the travel industry as independent businesses selling travel to consumers nation wide. Established host agencies represent revenues in the billions of dollars and are an important part of travel distribution. As such, they enjoy commissions and override commissions that the independent travel agent could never achieve on their own. This fact, coupled with the considerable services that host agencies provide have established them as the primary choice for those entering the travel industry and those who also have a large book of business that want to take advantage of the support and commissions the host agency offers.
What Services do Travel Host Agencies Provide in 2022?
2022 may be the start of the return to normalcy after the pandemic. Host agencies came through the pandemic nicely and are ready to support you in your business as it starts to blossom.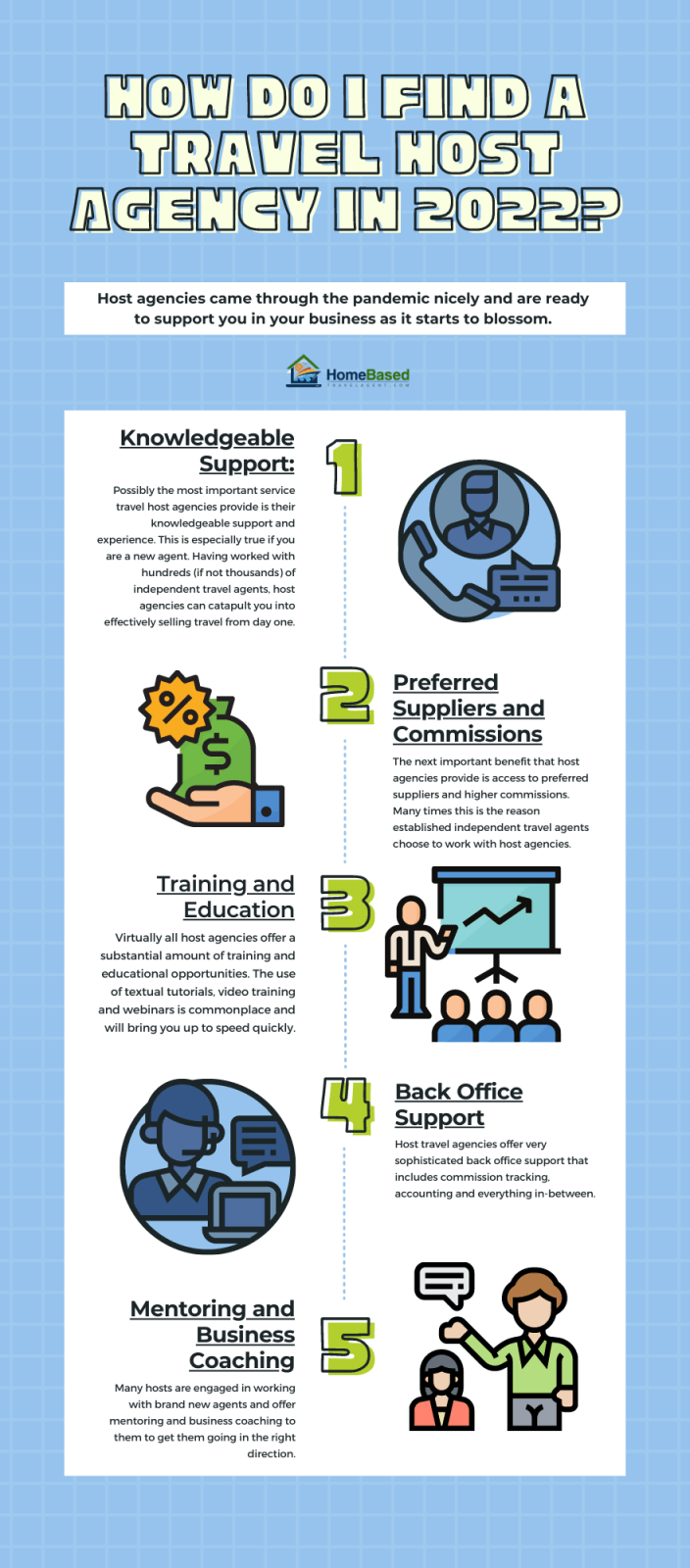 Knowledgeable Support
Possibly the most important service travel host agencies provide is their knowledgeable support and experience. This is especially true if you are a new agent. Having worked with hundreds (if not thousands) of independent travel agents, host agencies can catapult you into effectively selling travel from day one.
Preferred Suppliers and Commissions
next important benefit that host agencies provide is access to preferred suppliers and higher commissions. Many times this is the reason established independent travel agents choose to work with host agencies. Depending on your niche, the right host agency will make you competitive with others in your niche from day one.
Training and Education
Virtually all host agencies offer a substantial amount of training and educational opportunities. The use of textual tutorials, video training and webinars is commonplace and will bring you up to speed quickly. Again, if you are a newer agent this element is extremely valuable.
Back Office Support
Host travel agencies offer very sophisticated back office support that includes commission tracking, accounting and everything in-between. This makes operating your travel business much simpler and frees your time up to sell more and push paper less.
Mentoring and Business Coaching
Many hosts are engaged in working with brand new agents and offer mentoring and business coaching to them to get them going in the right direction. If you are a newer agent, or having a difficult time focusing on important tasks at hand, using a mentor or business coach will help you dramatically.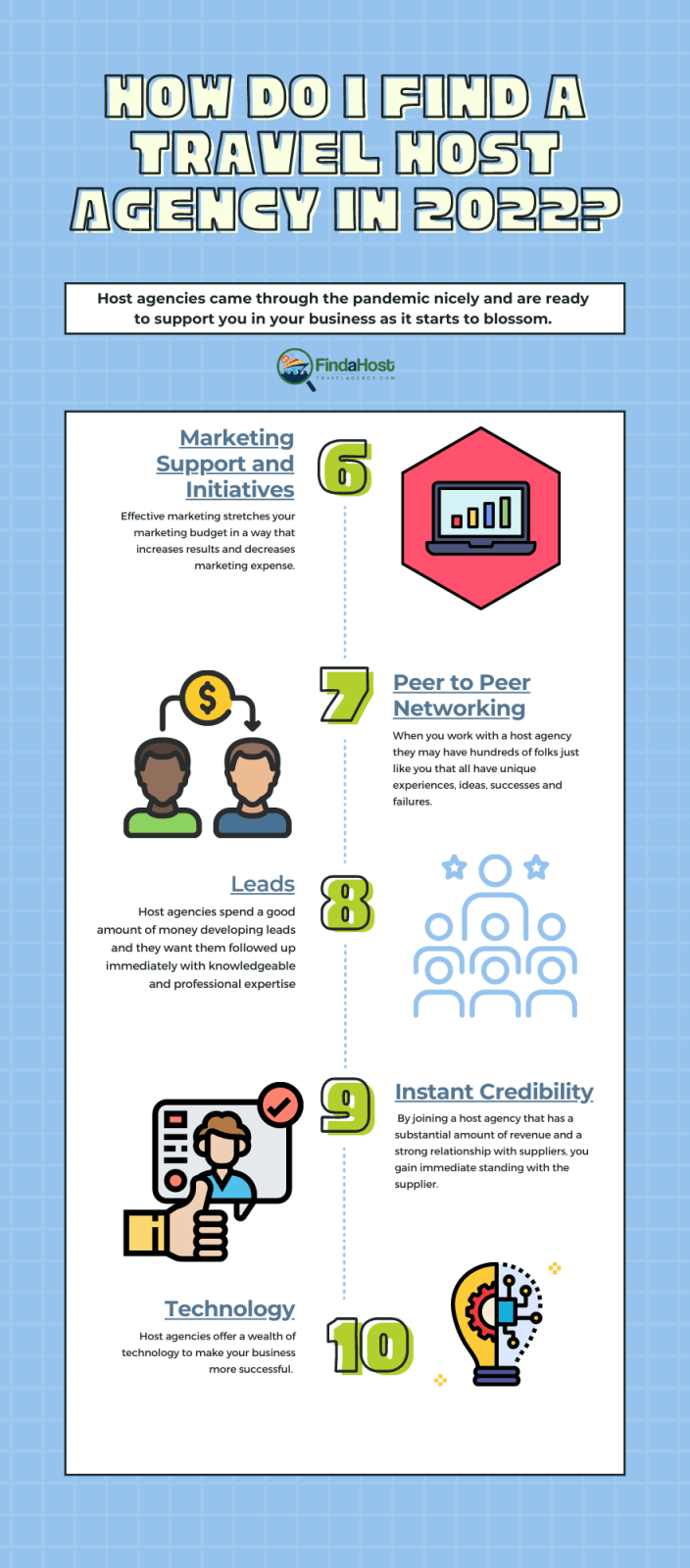 Marketing Support and Initiatives
Virtually all host agencies will help you market yourself in a variety of ways. They may offer ongoing social media promotions, mass mailings, email marketing and so on. Effective marketing stretches your marketing budget in a way that increases results and decreases marketing expense.
Peer to Peer Networking
When you work with a host agency they may have hundreds of folks just like you that all have unique experiences, ideas, successes and failures. Being able to communicate with your peers in discussion groups allows you to uncover information that is vital to your success.
Leads
Some host agencies are generating leads that they share with their agents. This is the best situation when you are just starting out in your business. However, unless you have a niche or specialty with a good conversion ratio, you may not receive the highest quality leads. Host agencies spend a good amount of money developing leads and they want them followed up immediately with knowledgeable and professional expertise. Some host agencies actually track each lead and determine who has the highest conversion ratio for the request being made and will favor them with high quality leads.
Instant Credibility
When you first start out in the travel industry it is very difficult to gain the attention of suppliers simply because you do not have a revenue track record with them. By joining a host agency that has a substantial amount of revenue and a strong relationship with suppliers, you gain immediate standing with the supplier.
Technology
Host agencies offer a wealth of technology to make your business more successful. Here is just a glimpse of what you might expect.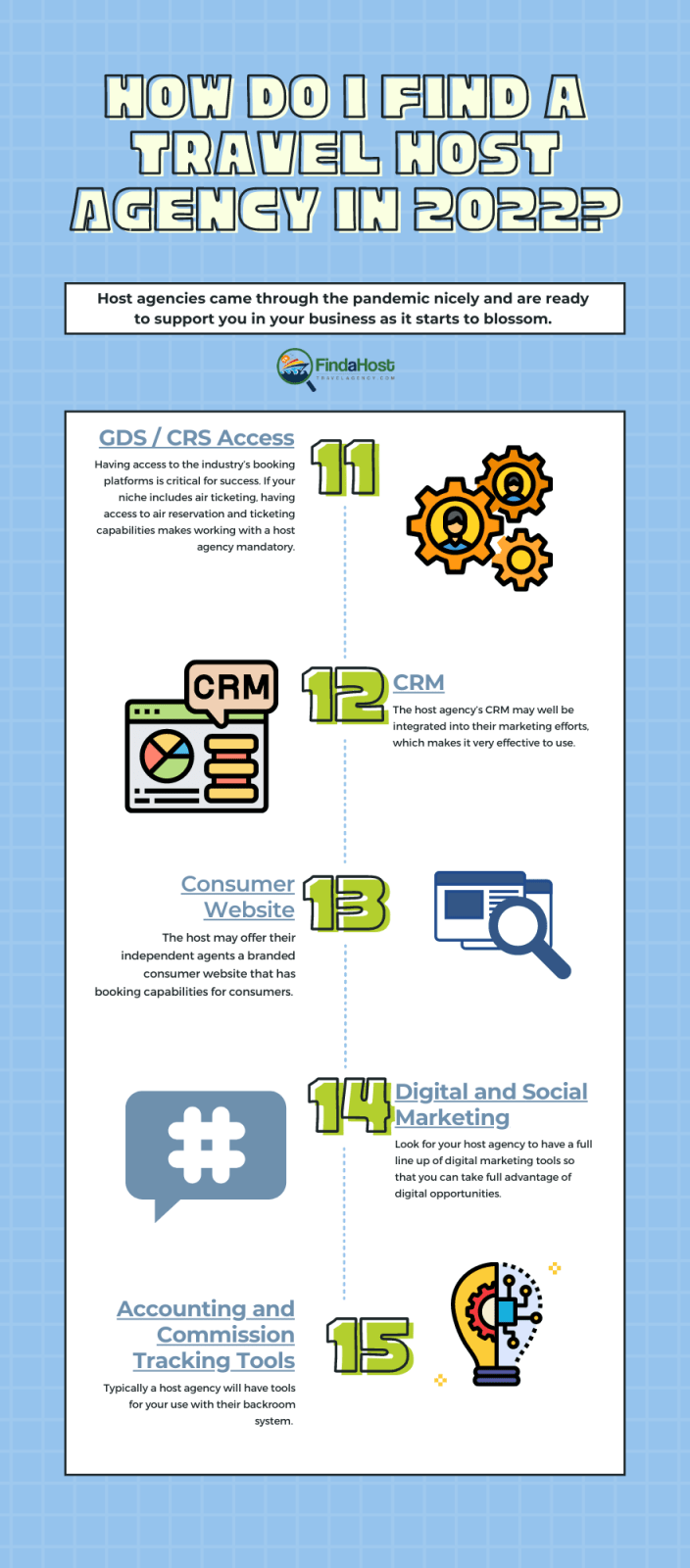 GDS / CRS Access
Having access to the industry's booking platforms is critical for success. If your niche includes air ticketing, having access to air reservation and ticketing capabilities makes working with a host agency mandatory.
CRM
A Customer Relationship Management program is essential in today's marketplace. The host agency's CRM may well be integrated into their marketing efforts, which makes it very effective to use.
Consumer Website
The host may offer their independent agents a branded consumer website that has booking capabilities for consumers.
Digital and Social Marketing
 Look for your host agency to have a full line up of digital marketing tools so that you can take full advantage of digital opportunities.
Accounting and Commission Tracking Tools
Typically a host agency will have tools for your use with their backroom system.
OK, So How Do I Find a Travel Host Agency in 2022?
The very first thing you must do is understand what your business needs are long before you start your search. You will never find the right host for you without knowing exactly what you are looking for. You should at the very least have a business plan for what your business is going to focus on. And, the more detailed your focus, the better. What training and support do you need? Which suppliers would be important for the host agency to have relationships with? What technology will be important for your business? Are you going to look for a host that offers mentoring or business coaching? What about Leads, are they something that would be important to you for the success of your business?
Understand that when you reach out to interview a potential host agency that they are also evaluating you. Do you come off as unfocused and without a plan? Do they believe that you may be difficult to deal with? How knowledgeable do they perceive you to be? Do they feel it would be worth their investment of time and resources to help you develop your travel business?
Take time to understand both sides of the interview. You will need to impress them of your potential just as much as they need to impress you. You are looking to establish a business relationship based on professionalism. Also, understand that a host agency doesn't need to accept you just because you want to use their services.
Find a Host Travel Agency
When you are ready start your search for a host agency look no further than Find a Host Travel Agency. This site has well over 150 quality host agencies with detailed information for each and every one. Each host agency offers a unique value proposition and there is sure to be one that meets your needs.
When you visit the site you are presented with a "Click Here to Start Your Search" link which then takes you to a search tool with 16 different filters so that you can input what features that you are looking for. In just seconds you will have the result for agencies that meet your criteria. It also shares a list of the top host agencies in the industry and a video about them.
In addition to the Search Function of FindaHostTravelAgency.com, you can utilize the free Host Agency Checklist to track your research and Host Agency Interviews. It's free to download and a great tool in your efforts.
You can spend a great deal of time researching hosts on this site and it is always current. The site is there to help you find the right host agency for your business.
How Do I Find a Host Travel Agency